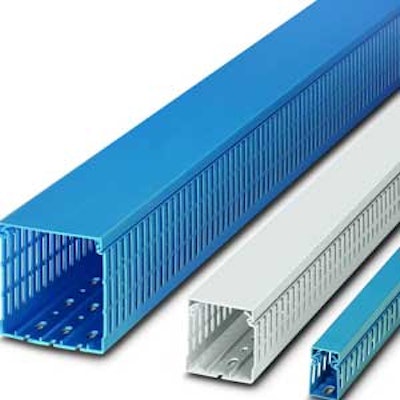 Phoenix Contact has added white and blue options to its line of wire duct cabinet add-ons. According to the company, benefits and characteristics include:
White wire duct is required in the biotech and natural gas industries, and is preferred in the food industry.

The new colors, with UL and CSA approvals, are made from PVC material with a V0 inflammability rating as per UL 94.

The white and blue wire duct have the same features as the gray and halogen-free duct, such as "fingers" with two score lines on the ducts, allowing for easy removal.

The flexible fingers will not snap when the user runs wire through them.

The wire duct features a notched score line that eliminates the need for notching pliers to break off the fingers; breaking the wall will require the use of a cutter.

The cover's contour allows it to snap on easily and fit securely.

The duct and cover are available as a complete set, or the covers can be ordered individually.

Available sizes range from 25 mm to 120 mm to meet the needs of a variety of applications.

The wire duct is available in two meter lengths, matching the company's standard DIN rail.