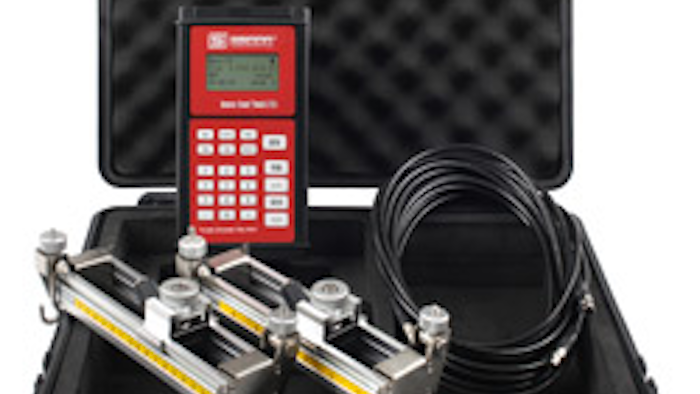 Sierra Instruments has introduced the next-generation Innova-Sonic® 210i, an updated universal transit-time flow meter for liquid flow measurement applications. The flow meter is characterized by:
A high-powered ultrasonic pulse with improved digital signal processing enables the unit to use just one set of transducers over a wide range of pipe sizes.

Includes a new, user-friendly tactile pushbutton interface with a large digital display that significantly simplifies set-up and data collection.

Comes with a fully field-configurable 4-20mA current loop analog output, 2GB SD memory card for data logging, and a suite of powerful yet extremely user-friendly programming menus that simplify data analysis.

Complex totalization functions are standard, including parallel operation of positive, negative and net flow totalizers.

 

Includes extremely easy-to-install clamp-on transducers with magnetic racks (chain straps are included for non-magnetic pipes), and a long–lasting (up to 16 hours between charges) 11 VDC Lithium-ion battery.

Everything necessary for making the measurement (meter, transducers, mounting rack, coupling compound) is packaged in a Pelican carrying case for easy transport.

Features an accuracy of +/-1.0 percent of reading, a wide operating temperature range -40°F to 176°F (-40°C to 80°C) and a bi-directional flow range of 0 to 40f/s liquids (0 to 12m/s).

Can be used for a wide range of pipe sizes from 1.0 inches to 48 inches (25mm to1200mm).

Built-in totalizers record daily, monthly and yearly totalized flow — totalized flow for the last 64 days and months and even over the last 5 years are may be viewed.

Meter is competitively priced.