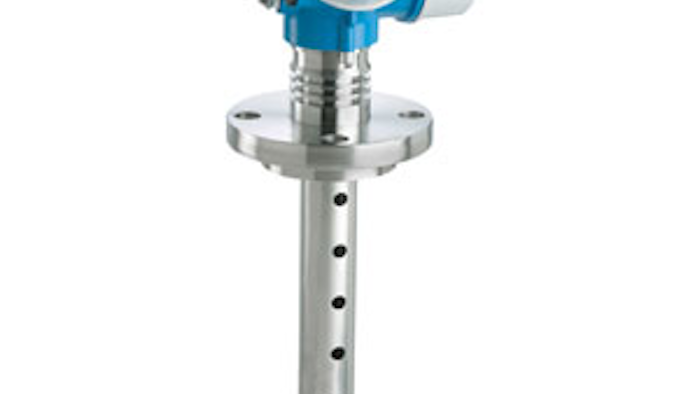 Endress+Hauser recently released its Levelflex FMP55 multi-parameter level transmitter to measure the overall level of a liquid and the interface between 2 liquids. According to the company, the FMP55 is the first transmitter to use 2 level technologies built into 1 probe, and features:
The flexibility to automatically switch between the technologies in order to provide a concise and reliable interface measurement.

A radar that allows the transmitter to monitor the overall level, as well as the interface level, while not affecting capacitance by emulsion or rag layers in interface applications.

A multi-echo tracking algorithm that can track up to 20 tank echoes simultaneously as the tank level rises or lowers, which ensures that the transmitter does not "jump" to an echo that is not the true level, such as a internal tank obstruction or heater coils.

A measuring range of up to 33 feet (10 m).

The ability to withstand process temperatures from -58° to 392°F (-50° to 200°C) and pressures from -14.5 to 580 PSI (-1 to 40 BAR).

A HistoROM — built into the main housing of the transmitter — to store all of the setup parameters and, in the event of an electronics change-out, directly upload all of the information into the new electronics module.

A 4- to 20-mA with HART output signal, plus an optional second 4- to 20-mA output.

A

coated multi-parameter probe, which makes the FMP55 ideal for interface measurement in the oil, gas and chemical industries.

A SIL 2 rating as certifed by TÜV per IEC 61508 and availability of compliance with ATEX, IEC Ex, FM and CSA.