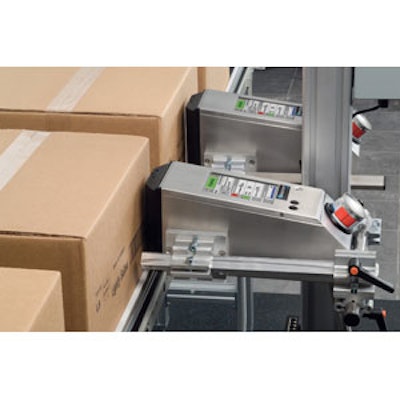 Videojet Technologies has enhanced its Videojet® 2300 Series ink jet printers — the industry's only large-character, high-resolution ink jet printers to recycle and reuse ink used during automatic printhead micropurge. The company says that its 2340, 2350 and 2360 Series printers all incorporate:
Automatic printhead micropurge for the printheads during operation, helping to eliminate frequent downtime, while maintaining high-quality printing, even in dusty environments.

The

flexibility to

print text, logos and GS1-compliant bar codes up to 2.7 inches to meet a variety of case-coding needs.

Optimal code quality.

The reduction of inventory expense by eliminating the need for pre-printed cases.

A molded, rounded front plate to protect the printhead from impact with boxes on the line, ensuring consistent print quality in secondary packaging applications.
Claricom CLARiSOFT™ message management software that supports message creation using alphanumeric codes, graphics, images and bar codes.

The ability to print variable information onto cases online.

The power to link up to 4 printers into a single print system with full system control and job selection possible from the interface of the master printer —an optional remote user interface or a PC.
Stand-alone operation or integration into a facility's IT infrastructure using Claricom CLARiNET™ networking software.
Easier production line integration and operation.
An optional remote user interface based on the intuitive CLARiTY™ operating system, which makes it easy to change settings or select messages in hard-to-access areas.