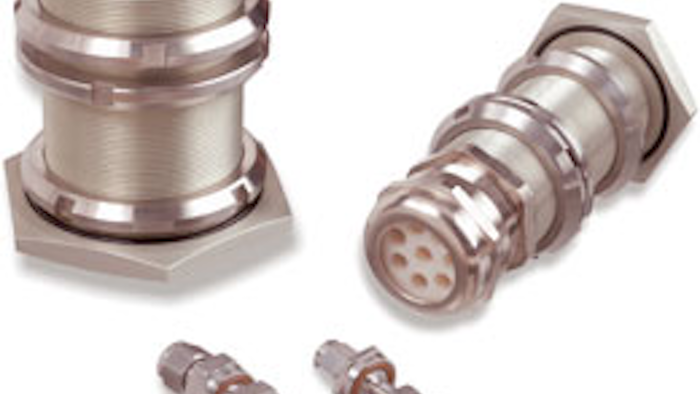 Parker Hannifin Corporation recently introduced three captured O-ring feed-through and bulkhead fitting products for use in process analyzer sampling and electronics enclosures.  The feed-through and bulkhead fitting products are proprietary, engineered solutions for the prevention of air, other gases and liquids leakage into sample system and electronics enclosures. The captured O-ring prevents thread leakage in bulkhead union connectors.  Conventional bulkhead unions do not isolate and seal fitting threads, resulting in the potential ingress or egress of air, gases, or liquids from the enclosures due to poor thread sealing. The three new Parker IPD products include:
Captured O-ring pneumatic feed-through, which prevents ingress by potential hazards like air, hydrocarbons, and water. The feed-through features a 2-1/2" diameter captured O-ring connection with eight separate connections, or airlines, accommodating a wide array of fitting types.
Captured O-ring electrical feed-through, which provides electrical penetration into an enclosure, without the use of sealing compounds, to isolate hazardous area zones. This feed-through features a 1-1/2" diameter threaded connection captured O-ring accommodating eight separate electrical lines.
Captured O-ring tube fitting, which prevents gas or liquids from entering an enclosure, thus protecting interior components. Designed to prevent thread leakage in fitting bulkhead union connectors, it is available in 1/8", 1/4", 1/2", and 3/4" fitting sizes.