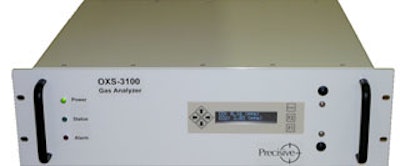 Precisive has introduced two new series of multi-gas industrial monitors for process automation. Based on its unique Tunable Filter Spectroscopy (TFS) technology, the OXS-3100 series is designed for measurement levels in the ppm to percent range, while the OXS-4100 is used for sub-ppm ranges. Both systems:
Provide real-time, optical scanning of multiple compounds in gas flows and processes.
Have network capability.
Are factory calibrated for easy installation and remote operation in industrial environments.
Use standard configurations for: sub-ppm monitoring of trace impurities (CO, CO2, hydrocarbons and moisture in atmospheric gases) — OXS-4100-103 only; percent level monitoring and speciation of hydrocarbons (C1 – C4 alkanes) with THC measurement — OXS-3100-113 only.
Chem Show Booth #335
www.precisive-instruments.com