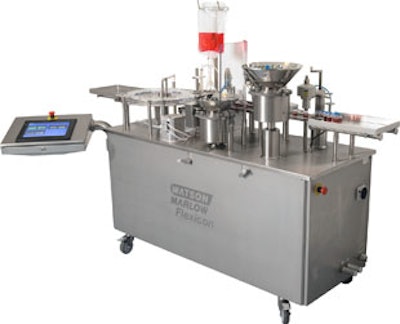 Watson-Marlow now offers its Flexicon FPC50W—an operator-friendly, fully automated filling and plugging system. According to the company, the system comes with:
A Wipotec weighing cell to measure the weight of each individual fill with an accuracy rate of ±0.002 G.
The capacity to handle filling requirements for clinical trials and medium-batch productions with peristaltic aseptic filling from 0.1 to 100 mL.
Accommodation of a range of vial sizes and neck finishes without the need for extra format parts for operator convenience.
Connection of the weighing cell to the filling system, allowing for fully automatic recalibration of the pump throughout the batch.
The ability to employ a changeover of the single-use fluid path, which includes pharmaceutical-grade silicone tubing and plastic filling needles, to adapt to multiple processes or fill volumes.
An automated turntable infeed, an in-line filling station, and a rubber plug closure applicator that is capable of filling and capping vials at rates up to 20 VPM.
A 12-inch HMI for easy setting of all process parameters.
[email protected]
www.watson-marlow.com