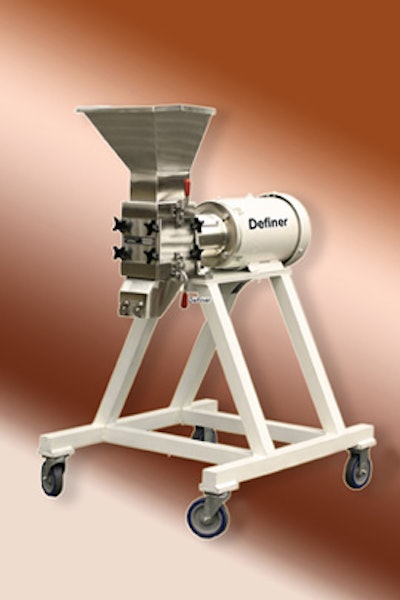 Franklin Miller presents the Definer as a versatile, ultra-sanitary mill with the processing capabilities of several mills in one. According to the company, the Definer also delivers:
The reduction of a variety of powders and agglomerates into a controlled output particle size.
A straight flow-through product path to eliminate the possibility of accumulation in hoppers and to simplify installation.
A deagglomerating element with teeth, combs, positive once-through anti-clogging and minimal temperature rise.
A fine milling element with a high-shear rotor and screen design that gently mills and conditions solids without degrading them.
A variable-frequency controller and direct drive for precise, repeatable and infinitely variable results.
A fully enclosed, dust-tight unit constructed entirely of stainless steel.
Easy cleaning, as well as disassembly and reassembly in a matter of minutes.
A compact body measuring 5 inches from inlet to outlet.
Availability of several interchangeable cutting mechanisms.
Accommodations for the pharmaceutical, food, dairy and chemical industries.
The flexibility to add a knife blade in order to cut through fibrous materials to the mill.
An optional hopper or stand on casters for portable use.
[email protected]
www.franklinmiller.com