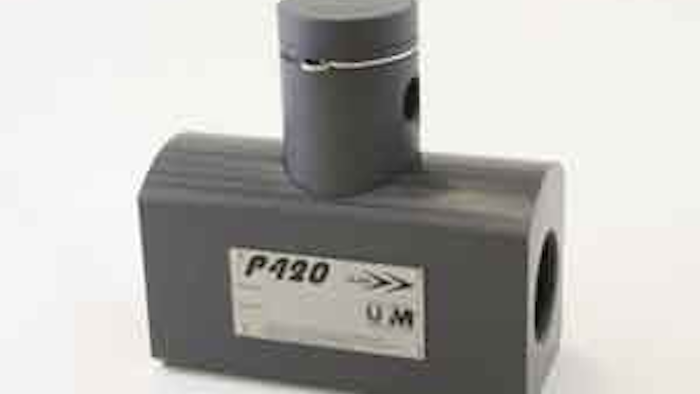 Universal Flow Monitors recently unveiled its P420 Series vortex-shedding flowmeters, which are plastic flow rate transmitters that meet water treatment, chemical and desalination industry requirements. The flowmeters are further highlighted by:
Accommodations for low-viscosity, clean or dirty water-like liquids to 450 CP or 50 SUS.
Flow rates from 6 to 200 GPM (2.27 to 750 LPM) depending on pipe size.
PVC or CPVC wetted parts — CPVC models can transmit liquids with a maximum operating temperature of 180°F compared to a maximum of 140°F with PVC units, while CPVC units can withstand higher maximum operating pressures than PVC units at temperatures of 80 to 180°F.
A response time of 0.9 seconds.
An accuracy of ± 2 percent of full scale.
A10:1 turndown ratio.
The flexibility to fit pipe diameters from 3/8 to 2 inches.
Inline mounting.
A 2-wire 4- to 20-mA flow rate transmitter.
No moving parts to clog, jam, stick, bind or coat when processing water, corrosive fluids, brine and low-viscosity fluids.
A solvent socket or NPT connection.
No seals.