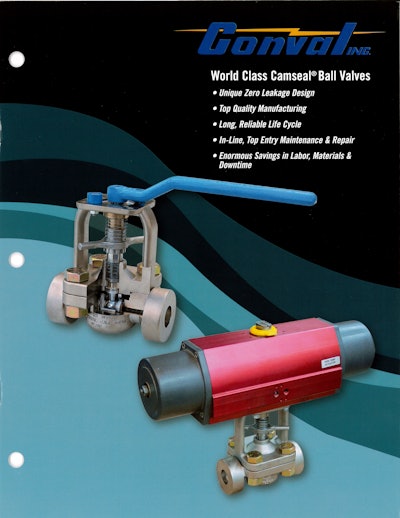 A free, recently updated brochure on Camseal® top-entry, zero-leakage forged high-performance ball valves is now available from Conval. The full-color, information-packed brochure contains descriptions of key design features and benefits; lists of materials; technical drawings; summaries of testing results; U.S. and metric dimensions; sizing charts by type of forging, temperature and pressure class; operating torques for liquids and gas.

Camseal stand-alone and actuated ball valves are ideal for severe service applications. Valves are available in ½" through 4" sizes with top entry, socket weld, butt weld, and flanged ends. Pressure classes range from ASME 900 through 4500. N and NPT stamped valves are available for nuclear applications. All valves are manufactured in the U.S.A. to rigorous global QA qualifications including ASME, ISO 9001, PED, API Q1, IBR, PCT Gost-R and RCC-M. As a result, Camseal ball valves offer exceptionally reliable and long life far beyond industry standards.

Top-entry, cartridge-style Camseal ball valves are easy to inspect, maintain and repair. In-line renewability is accomplished within 30-minutes in the event of process application abuse. The cartridge is easily removed for on-site parts replacement, reassembly and reinstallation. No welding is required, which is especially important for valves made of F91 Stainless Steel and specialty metals. F91 is extremely sensitive to hardness and heat, making welding a sensitive operation.

For details, please contact Conval, P.O. Box 1049, Somers CT 06071-1049; telephone 860.749.0761, fax 860.763.3557, email sales@Conval.com, or visit www.Conval.com.