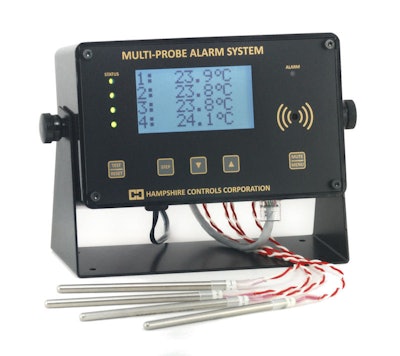 Hampshire Controls Corp., in celebration of its 40th anniversary, is proud to announce the launch of its MPS, "Multi Probe Alarm System."
This new stand-alone or cabinet mounted system monitors, alarms and notifies you based on condition data that you have programmed into the alarm (using up to 4 probes of various types). It includes a system relay or relay output per probe if required, battery back-up, display of min./max. environmental monitoring conditions, door ajar switch input, an e-mail alarm notification when connected to user's network and can be connected to our Alert Monitoring System.
Applications include:
• Laboratory Freezer, refrigerator, and walk in cooler storage of vaccines, blood and biological samples
• Pharmaceuticals storage
• Foods & perishable storage (such as in school systems, restaurants, grocery stores, and food processing centers).
• Servers rooms/data centers and general facilities maintenance
• High temperature manufacturing and storage
For more detailed information on this product, please visit its product page at:
MPS Series 2, 3 and 4 Probe Alarm System.