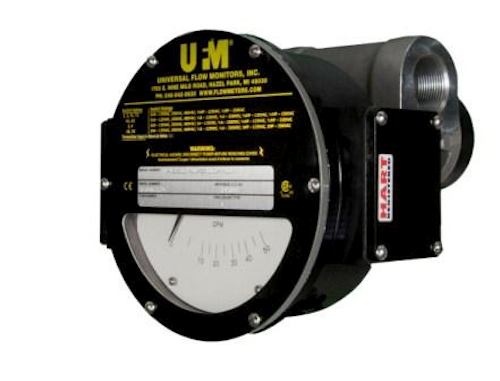 Universal Flow Monitors' Variable Area Flowmeters Upgraded
HART Protocol and Mechanical Switch Back Up Options Multiply Reliability and /Safety

Universal Flow Monitors, Inc. now offers a HART protocol option on all of its variable area flowmeters equipped to operate in oil refining and chemical processing environments. There is an additional option of a mechanical switch to back up the transmitted signal.
HART is a digital communication signal superimposed on top of the 4–20 mA standard analog signal which provides additional digital information to the controller. It is one of the most popular industrial protocols. UFM recommends the SN and MN model variable area meters with HART for use in oil refining and chemical processing.
The UFM website aids customers in choosing a flowmeter specific to their needs. Product specification choices are available for units of measurement, maximum flow rate, pipe size and pressure.
The HART option is offered on all variable area vane and piston style flowmeters. The SN and MN Series are simple low maintenance meters that come in 11 sizes and go up to 300 PSI for flow ranging up to 60 GPM. They have CSA and CE certifications. They are easy to install, operate and maintain. They mount in-line and in any orientation, with no straight pipe runs required.
Universal Flow Monitors, Inc., located in Hazel Park, Michigan, has manufactured flowmeters for a variety of industries for more than 40 years. The company can be reached at (248) 542-9635, by email at ufm@flowmeters.com or through the website at www.flowmeters.com.