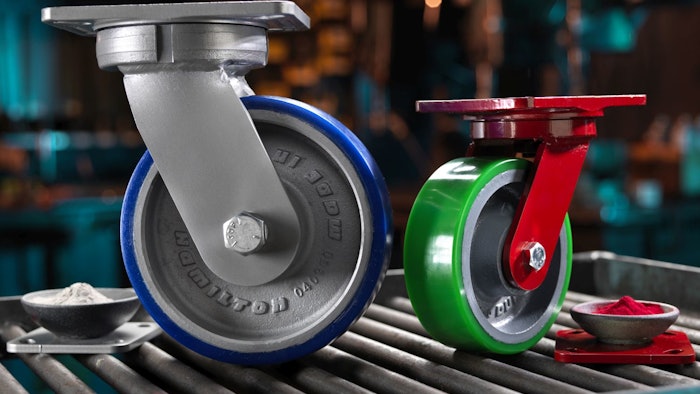 The product finish upgrade transitions to HAA polyesters: New Platinum Powder and Crimson Powder.
November 15th, 2017: Hamilton Caster, a premier manufacturer of industrial casters and wheels, announces a significant expansion of its manufacturing capabilities with an advanced powder coating system. The new system was installed in Hamilton's 100,000 sq foot facility in Hamilton, Ohio and became fully operational November 1sr. The automatic powder application system represents the latest technological advancements in the industry and supports Hamilton Caster's commitment to premium product quality and its "Toughest on the Planet" motto. "Up to this point we've always claimed our caster forgings, swivel construction, and wheels were the toughest on the planet, now we can add our product finish is too!" explained Lee Burroughs, the project lead responsible for the design and installation of the new system.
New and existing Hamilton customers will benefit from a much more durable product finish that's less prone to corrosion, resistant to tough chemicals, and can withstand challenging weather conditions. The new powder coating operation also increases productivity, reduces waste, and is more environmentally friendly. Dave Lippert, Hamilton company President stated, "Hamilton Caster places a high priority on the modernization of our equipment and advancements in technology and this powder paint system represents a critical element in our overall growth strategy."
The new system features the automatic application of Hamilton's two primary colors plus a manual booth to accommodate customers' special colors or textures. Hamilton selected two HAA polyester powders: a legendary Crimson Red was retained while a new brighter gray metallic appropriately named Platinum Powder replaces the traditional Battleship Gray. The Platinum Powder noticeably improves the caster's aesthetics. The new system is housed in Hamilton's forged steel caster rig production area fully integrated with its lean manufacturing operations. Hamilton's medium and light duty casters will remain zinc-plated.


About Hamilton Caster
Founded in 1907, Hamilton Caster is an industry leader in designing and manufacturing stock and custom-engineered heavy duty casters, wheels, carts, and trailers. Family owned since its inception, the fourth generation remains as committed to quality as the company's founder, John Weigel.