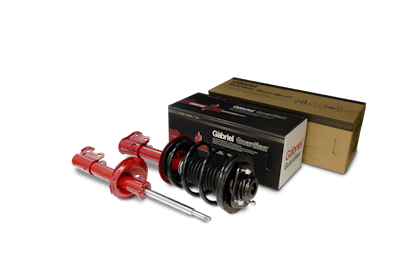 Farmington Hills, Mich. – Gabriel® (Ride Control, LLC), the inventor and industry leader in automotive ride control technology, announces the addition of its Guardian line of struts and ReadyMounts® to the existing Guardian shock family, which delivers reliable shock absorption at an excellent value.

"Gabriel has developed the Guardian line as a reaction to the needs of the market, serving our customers who are budget conscious but still expect a high quality product," said Duncan Greathead, Vice President of Sales and Marketing for Gabriel. "Our introductory coverage will include over 250 products, between struts & ReadyMounts, and will complement Gabriel's Ultra series by delivering an affordable and high-quality product that provides a plush, comfortable ride to family vehicles under normal driving conditions."

A catalog featuring just the new Guardian struts and ReadyMounts has been released, and all of the new part numbers are loaded in the Gabriel on-line catalog. Visit www.gabriel.com for more information.
###
About Ride Control, LLC
Ride Control, LLC operates in both the aftermarket and original equipment manufacturer (commercial, industrial and recreational vehicle) segments under the brand names Gabriel® (U.S. and Canada) and GRC® (Mexico). The company offered the world's first automotive shock absorber, "The Snubber," in 1907, and continues to be a leader in the design, engineering, development and production of ride control technology in North America today.
Ride Control, LLC has approximately 1,500 employees in the U.S., Canada and Mexico. The company maintains engineering, design, manufacturing, warehouse, sales and management offices throughout North America including Farmington Hills, Michigan; Chickasha, Oklahoma; Brentwood, Tennessee; and Queretaro, Mexico. For additional information, please visit www.gabriel.com.