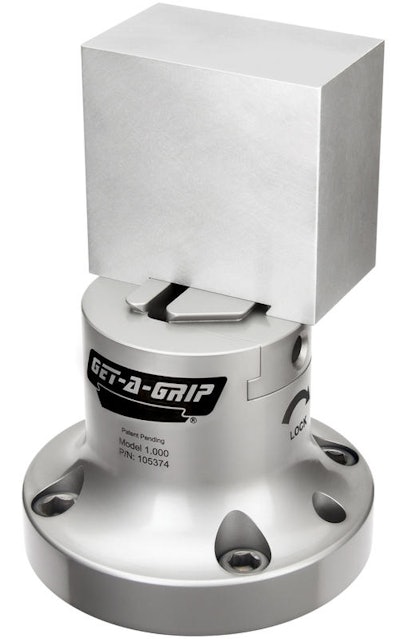 AMT Innovations offers a state-of-the-art workholding product, Get-A-Grip®. The new cutting-edge triangular dovetail will never distort or deform the workpiece. The dovetail provides 3 evenly spaced, radial force vectors for superior gripping. Through carefully thought out triangular contact geometry, this product eliminates the need for an indexing pen. The pioneering internal clamping geometry reduces material preparation area and can be strategically placed where the finished part may have a pocket which greatly reduces secondary operations.

Get-A-Grip® revolutionizes traditional workholding products for multi-axis CNC machining. Made in the USA, AMT uses the Stainless Steel™ Logo on the product as a trademark and badge of the build quality this product offers. The use of robust materials and innovative design elements bring flexibility and time-saving benefits to our customers which will result in a dramatic increase in production and profits.

Multiple product options allow users to apply this technology to palletized 4-axis horizontal CNC mills with tombstones, 5-axis CNC machines as well as CMM fixtures. Although many shops may not have 4 or 5 axis capabilities, AMT's Get-A-Grip® also offers many advantages for common 3-axis CNC machining work and even 2-axis CNC turning. The recommended maximum workpiece is 5″ x 5″ x 5″ for Get-A-Grip® Size 1.000 when using a single fixture. It is possible to hold a larger workpiece when using multiple fixtures.