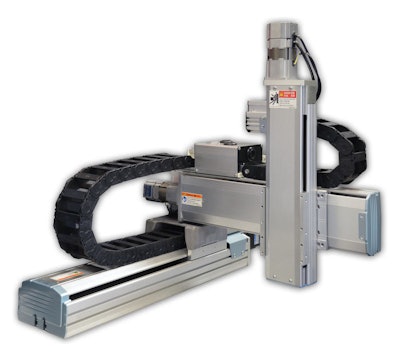 FORT WAYNE, Indiana (February 2, 2015) - PHD, Inc., a leading manufacturer of industrial automation solutions, is pleased to release the PHD Plus™ Series ESFX Electric Linear Actuator Slide.

Series ESFX Electric Linear Slides are designed to provide superior speed and load/moment performance in a saddle type actuator. Along with other PHD electric and pneumatic solutions, these linear slides can combine to create virtually any system to meet your Cartesian robot needs. The flexibility of Your Motor, Your Way provides the freedom to use familiar motors and controls, making this linear slide the optimal solution for the most demanding automation applications.

Benefits include:
• Rigid frame provides superior support and strength
• High allowable load/moment capacities
• Modular capability to create Cartesian robot systems
• Heavy duty versions available to provide additional bearing support for high load and offset applications
• Your Motor, Your Way for configuration of motor mounting plates for many motor manufacturers


To learn more and download or order a catalog, visit www.phdinc.com/esfx. For immediate assistance, call (800) 624-8511.


Caption: Series ESFX can be combined to create a multi-axis Cartesian robot system.


###


About PHD
PHD, Inc. is a leading manufacturer of pneumatic and electric actuators for assembly, packaging, robotics, and industrial automation. PHD's product line includes cylinders, escapements, grippers, linear slides, rotary actuators, clamps, blow molding equipment and more. Known for performance, flexibility, and extremely long life, PHD actuators welcome the challenge of many different types of operating environments. PHD's fast delivery reduces inventory costs and keeps production schedules on track. Finding a solution for specific automation needs has never been easier or faster than it is with PHD.