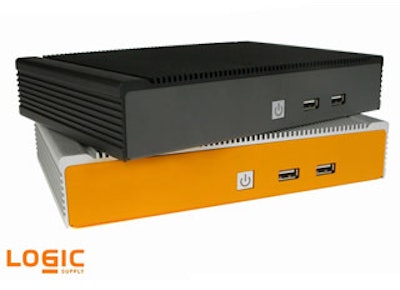 South Burlington, Vt. (Manufacturing.net) — Logic Supply has announced that its fanless computer, based on Intel's "Next of Computing (NUC)" form factor, has been certified by Intel testing to be the first such machine capable of maintaining performance in ambient temperatures exceeding 30°C. The machine was also capable of handling temperatures up to 50°C without CPU shutdown, Wi-Fi failure or data corruption thanks in part due to special wide-temperature components. The ML300 is completely fanless and ventless, which protects it from dust, metal shavings and other debris in industrial applications. No moving parts means the machine will outlast commercial PCs. Additional features include:
A one-piece aluminum lid that acts as a single-interface heatsink to provide optimal heat transfer and improved cooling performance.

The ability to reconfigure, brand and customize the ML300s to a set of specific requirements.

Three screws that allow easy access to the machine's internal components, and an EMI gasket that reduces the risk of electromagnetic and radio frequency interference.

Space for up to three wireless antennas and an extra RS-232 COM port.
Learn more at www.logicsupply.com.