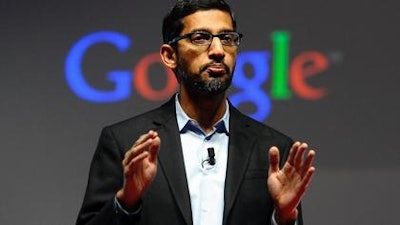 A top Google executive said the tech giant is getting into the wireless business in hopes of blending Wi-Fi and cellular networks.

Senior Vice President Sundar Pichai on Monday confirmed long-running speculation that the company would begin providing wireless service. But he said Google expects its service to showcase innovations to companies like Verizon, AT&T, Sprint and T-Mobile—not compete with them.

"Our goal here is to drive a set of innovations which we think the ecosystem should evolve and hopefully will get traction," said Pichai, who runs Google's products operation.

Google is reportedly working on a service that would primarily use Wi-Fi, then switch to cellular towers in areas where Wi-Fi service is unavailable. Reports said the company would lease towers in Sprint and T-Mobile networks, though Google has not yet named its partners. Pichai said details would be officially announced in the coming months.

The move into wireless represents just the latest Google telecommunications effort, following the Google Voice Internet phone service, its Hangouts texting app and the limited launch of Google Fiber broadband Internet in select U.S. cities.

Pichai said Google is comfortable with the current wireless landscape and with its "partners" in the four leading wireless companies. He noted those providers enable a platform for the company's Android mobile software and that "there's no reason for us to course correct."

Reports, however, said Google's move could prompt other tech giants like Apple or Facebook to take another look at wireless service.