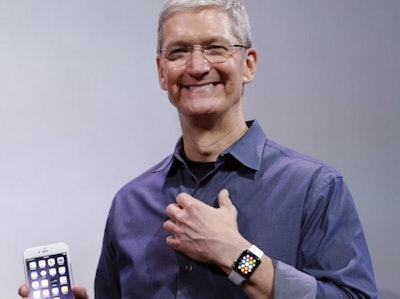 A recent survey by Credit Suisse projected that the Apple Watch could see $32 billion in sales during its first year on the market.

Analyst Kulbinder Garcha's poll of 2,229 Apple users found 10 percent of iPhone owners had an interest in purchasing Apple's new wearable technology, which is set to debut next month. That level of enthusiasm would translate into sales of 40 million Apple Watches at an average sale price of $800.

The $32 billion estimate would also equate to about 14 percent of Apple's 2015 revenue.

Garcha's official forecast for the product – which he categorized as conservative – projected sales of between 20 million and 30 million watches at an average price of $500. The watch starts at $350, but high-end models can run $10,000 and up.

Credit Suisse's original forecast of 20 million remains among the more optimistic projections for the watch; Barclays, for example, predicted sales of 7.5 million units. A survey by Reuters/Ipsos, however, found 40 percent of adult iPhone users in the U.S. indicated an interest in buying the Apple Watch.