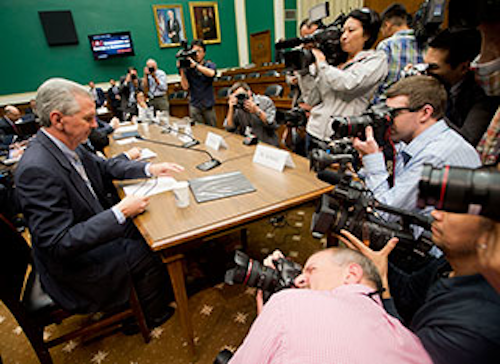 DETROIT (AP) — A group of U.S. senators says automotive airbag maker Takata Corp. may have placed profit over safety by halting safety audits of factories.
Democratic members of the Senate Commerce Committee made the allegation in a report on the Takata airbag crisis, citing internal company emails showing that the global audits were stopped for financial reasons from 2009 to 2011.
Inflators in Takata airbags can explode with too much force, sending metal shrapnel into drivers and passengers. The problem has caused at least eight deaths and 105 injuries.
"The more evidence we see, the more it paints a troubling picture of a manufacturer that lacked concern," Sen. Bill Nelson of Florida, the committee's ranking Democrat, said in a statement.
The report, released a day ahead of a committee hearing on Takata airbag problems, says that once a senior vice president called for the audits to be resumed, a safety director faulted a factory in Mexico for failing to properly close bags of ammonium nitrate, the airbag propellant, and for storing contaminated propellant near good materials.
Takata has said that the propellant can deteriorate when exposed to airborne moisture, causing it to burn faster than designed. That can blow apart a metal canister designed to contain an explosion that's supposed to inflate the airbag.
Takata said it never discontinued factory safety audits and said the Democratic report took the emails out of context. The company said it never halted what it called safety audits of product quality and manufacturing processes at its plants. The audits that were halted dealt with employee handling of pyrotechnic materials, a Takata statement said. The company said it now has an independent quality assurance panel that reviews manufacturing processes.
The Democratic report also found that an unknown number of Takata airbag inflators made to replace recalled parts might also be defective. And it accused the government's National Highway Traffic Safety Administration of failing to promptly investigate early reports of defective airbags.
In May, Takata bowed to U.S. government pressure and agreed to double the number of airbag inflators it's recalling to 33.8 million, making it the largest automotive recall in U.S. history. The problem, which has persisted for more than a decade, has brought congressional hearings and investigations from NHTSA and the Justice Department.
Vehicles from 11 automakers are affected including BMW, Daimler Trucks, Fiat Chrysler, Ford, General Motors, Honda, Mazda, Mitsubishi, Subaru and Toyota.