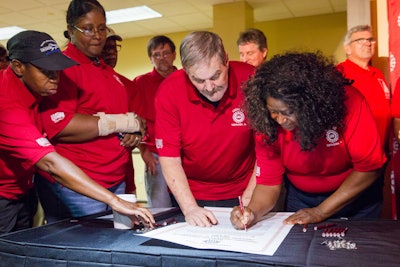 The National Labor Relations Board has upheld a ruling that Mercedes violated federal labor laws by stopping United Auto Workers union supporters from handing out literature inside its Alabama plant.
The ruling by the three-member NLRB panel requires Mercedes to update its employee handbook to say that workers are allowed to discuss union issues during non-work times and that they can solicit their colleagues in mixed-use areas like team centers and atriums.
Mercedes must also post notices at the plant near Tuscaloosa to acknowledge the violation and to reaffirm that management won't "interfere with, restrain, or coerce" workers seeking to unionize the plant.
Kirk Garner, who has worked at the Mercedes plant since 2000, was a witness in the NLRB case and is a member of the newly formed UAW Local 112 that is trying to gain representation at the factory.
"We appreciate the ruling by the National Labor Relations Board," Garner said in an email Monday. "Still, it's unfortunate that Mercedes-Benz had to be ordered to simply allow workers to discuss their right to organize."
"We're hopeful it can be a turning point for honoring workers' rights in Alabama, as Daimler does elsewhere in the U.S. and around the world," he said of the ruling, issued late Wednesday.
Mercedes parent Daimler has long declared that it is neutral on union questions. Plant spokeswoman Felyicia Jerald on Monday noted that the NLRB panel had agreed with the previous decision to throw out other worker complaints that they had been threatened or harassed for supporting the union. She added that the 2014 employee handbook had already been updated to address "unclear" provisions.
Jason Hoff, the plant's president and CEO, told reporters in September that the dispute did not reflect an anti-union position by management.
"We clearly feel there are certain places in the plant that are work places, and not places where we would want materials like that being distributed, regardless of whether that's for or against the union," Hoff said at the time. "It has nothing really to do with being against or for the UAW or any other union."
The UAW has been ramping up its efforts at Mercedes and at fellow Volkswagen's plant in neighboring Tennessee. Under German law, half of both companies' boards are made up of worker representatives who are putting pressure on management because the U.S. plants stand alone among either company's global factories without formal labor representation.
Organizing foreign-owned auto plants has been seen as key for the UAW to revive its fortunes. Union membership stood at about 391,000 at the start of this year — a far cry from its 1979 peak of 1.5 million.
The Alabama plant this summer began producing Mercedes' bestselling C-Class — making Mercedes the first German automaker to assemble a luxury Sedan in the United Sates. The company is adding 1,400 full-time positions at the plant in connection with the production of the C-Class and a new SUV.
The plant, which opened in 1997, employs about 3,400 workers, though company officials declined to break down how many of those are temporary or outsourced workers. The U.S. is Mercedes' biggest market, with 312,534 vehicles sold in 2013.
---
More from MBTMag.com
Death Toll From GM Ignition Switches Rises To 36
U.S. Appeals WTO Ruling Against National Meat Labels
Amazon's New Robot Army Is Ready To Ship
Explore more news

here

.