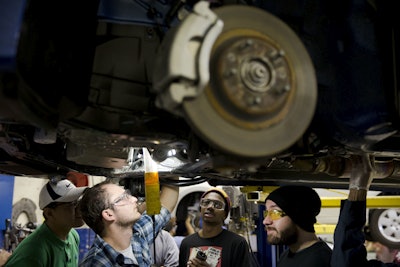 WASHINGTON (AP) — U.S. businesses hired at a solid pace last month, according to a private survey, a signal that Friday's November jobs report from the government will likely also show strength.
Payroll processer ADP said Wednesday that companies added 208,000 jobs in November, the third straight month that hiring has topped 200,000. The figures suggest that businesses remain confident enough in the economy and their customer demand to add workers despite sluggish growth overseas.
The report "adds to the evidence that employment growth remains solid," said Jim O'Sullivan, an economist at High Frequency Economics, a forecasting firm.
The ADP numbers cover only private businesses and sometimes diverge from the government's more comprehensive jobs report, which includes government agencies.
Economists have forecast that the government's figures will show that employers added 225,000 jobs in November, according to a survey by financial data provider FactSet. The unemployment rate is expected to decline to 5.7 percent from 5.8 percent.
The job gains in the ADP survey were broadly distributed: Construction companies added 17,000, though that was down from 27,000 in October. Manufacturers added 11,000, slightly below the previous month's total. A category that includes retail, transportation and utility companies gained a robust 49,000 jobs, possibly reflecting hiring ahead of the holiday shopping season.
Smaller companies with fewer than 50 employees accounted for nearly half the job gain for the second straight month.
Ahu Yildirmaz, vice president of the ADP Research Institute, said that banks are lending more freely to small businesses, enabling them to hire more.
"The broadening of hiring to small companies is another sign of an economy returning to health," Yildirmaz said.
Other recent data suggest Friday's report should show a solid gain. A survey of manufacturing companies by the Institute for Supply Management, a trade group, found that factories hired workers at a solid pace last month.
Strong economic growth has encouraged more companies to step up hiring. The economy expanded at an annual pace of 4.3 percent from April through September, the healthiest six-month rate in 11 years.
So far this year, employers have added an average 229,000 jobs a month, up from an average of 194,000 in 2013. This year's monthly average is on track to be the highest in 15 years.
But that trend has yet to spur significant wage gains. Average hourly wages have risen 2 percent in the past year — barely above inflation and below the 3.5 percent annual increases typical of an economy at full health.
The sluggish pay increases have likely held back consumer spending, which rose only modestly in October. The holiday shopping season is also off to a slow start, raising concerns that economic growth could weaken in the final three months of this year. Many economists forecast that growth will slide to a 2.5 percent annual rate in the current October-December quarter.
---
More from MBTMag.com
Jurors To Hear Steve Jobs Testimony At Apple Trial
Automakers Expand Passenger Air Bag Recalls
Chrysler U.S. Sales Up In November
Explore more news

here

.