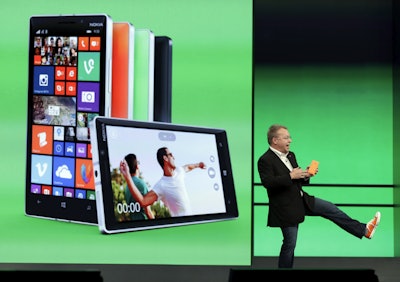 HELSINKI (AP) -- Nokia has received regulatory approval from Chinese authorities to sell its mobile phone unit to Microsoft Corp., removing one of the last major hurdles to the 5.4 billion-euro ($7.3 billion) deal.
The Finnish company says it expects the transaction to close by the end of the month, having acquired the necessary approvals from regulatory bodies including in the U.S., the European Union and other jurisdictions.
Nokia Corp. is contesting a legal case in Madras, India, where local authorities want it to pay sales tax on the export of devices made at Nokia's plant in Chennai. But the company said Monday the case would not delay the overall deal, in which it is selling its devices and services unit and a license to a portfolio of patents to Microsoft.
---
More from MBTMag.com
Michigan Boosting Efforts For Auto Industry Jobs
Supreme Court Rejects Early Appeal Of Surveillance Ruling
Industrial Machinery Market Growth To Double In 2014
Explore more news

here

.