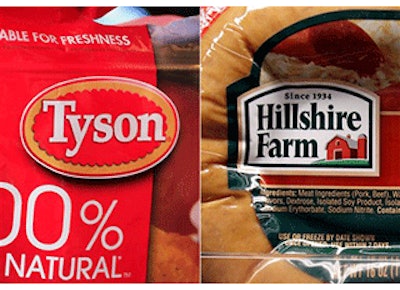 NEW YORK (AP) -- Meat producer Tyson Foods Inc. has won a bidding war for Hillshire Brands, the maker of Jimmy Dean sausages and Ball Park hot dogs, with a $63 per share offer.
Both Tyson and Pilgrim's Pride had been bidding for Hillshire Brands. Tyson had previously offered $50 per share for the company. Pilgrim's Pride then raised its bid to $55 per share.
Pilgrim's Pride said Monday that it is withdrawing its offer.
Still, the deal is not sealed yet. It is contingent on Hillshire abandoning its plan to acquire Pinnacle Foods Inc., which makes Birds Eye frozen vegetables and Wish-Bone salad dressings. Hillshire Brands said Monday it received the offer but said its board of directors has not approved the offer. The company said it does not have the right to end the deal with Pinnacle on the basis of the Tyson offer, or enter into an agreement with Tyson before the deal is terminated.
Hillshire, based in Chicago, had been trying to diversify its own portfolio by moving into other areas of the supermarket with the $4.23 billion acquisition of Pinnacle.
Tyson's offer will be in place until Dec. 12, the final termination date of the deal with Pinnacle.
"There can be no assurance that any transaction will result from the Tyson Foods offer," Hillshire said in a statement.
The takeover bids by Pilgrim's Pride and Tyson Foods were driven by the desirability of brand-name, convenience products like Jimmy Dean breakfast sandwiches. Those types of products are more profitable than fresh meat, such as chicken breasts, where there isn't as much wiggle room to pad prices.
While Pilgrim's Pride and Tyson both sell such products, their businesses have been more focused on supplying supermarkets and restaurant chains.
The offer from Tyson is worth $7.75 billion based on Hillshire's 123 million shares outstanding. Tyson values the deal at $8.55 billion, including debt.
Tyson said the combination will help it expand its prepared food business.
Tyson shares fell 2 percent in premarket trading. Hillshire shares rose 4.7 percent an hour ahead of the market opening.
---
More from MBTMag.com
What To Expect Next In The GM Recall Case
Glock Execs, Gun Dealer Face Indictment
U.S. Employment Rate Holds; Manufacturers Expanding Steadily
Explore more news
here
.