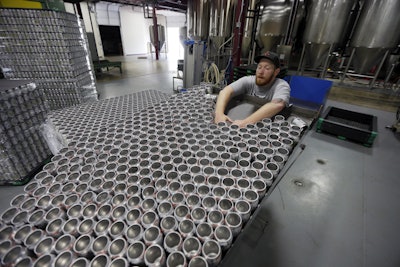 WASHINGTON (AP) — U.S. wholesale stockpiles rose in May at the weakest pace in five months as companies kept their supplies in line with slower sales.
Wholesale stockpiles grew 0.5 percent in May, the Commerce Department said Thursday, down from a 1 percent surge in April. Big gains in inventories of autos, lumber and metals drove the latest increase.
Sales at the wholesale level, meanwhile, rose 0.7 percent, down from 1.3 percent in April. Auto sales jumped 1.1 percent while sales of computers and electrical equipment fell.
The slower pace of sales and restocking suggests that consumer and business demand weakened a bit in May. But the figures also show that companies aren't building up large stockpiles, which can leave them with unsold goods if sales slow further.
And May's increase in inventories can contribute to economic growth because it means more orders of factory goods, which boosts manufacturing output.
Thursday's report covers inventories held at the wholesale level. Next week, the government will detail inventories at the manufacturing and retail levels.
Businesses sharply cut back on restocking in the first three months of the year, a big reason the economy shrank at a 2.9 percent annual rate. That was the largest contraction since the first quarter of 2009, in the depths of the recession.
But companies are now restocking their shelves and warehouses at a faster pace, which should boost growth. Total business inventories rose 0.6 percent in April, the biggest gain in 6 months.
Harsh winter weather in the first quarter shut down factories, disrupted shipping and lowered auto and home sales. Most economists expect warmer weather will help the economy grow again in the second quarter, at about a 2.5 percent to 3 percent annual rate.
---
More from MBTMag.com
GE Engineering Challenge Offers $1M In Seed Money To Inventors
California Man Facing Prison For Economic Espionage
Toyota Hopes Donations Will Make A Difference
Explore more news
here
.