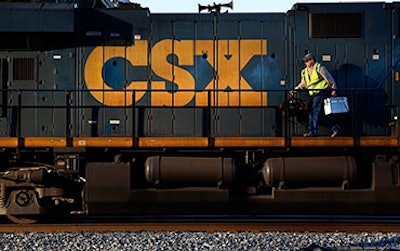 Canadian Pacific Railway says it has ended talks with U.S. counterpart CSX about a possible combination and plans no more discussions.
The railway operator did not say why it ended talks, but it did note in a brief statement that regulatory concerns appear to be a major deterrent for railroads considering combinations.
Several reports had surfaced recently that CSX Corp. had rejected a merger offer from Canadian Pacific Railway Ltd. Both railroads declined to comment on those reports, but CSX CEO Michael Ward said last week that the Surface Transportation Board, which regulates freight rail prices, would likely take a cautious approach to consolidation because there are only six Class I railroads in the U.S. and Canada.
Canadian Pacific said Monday it believed that regulatory approvals would be achievable for the right deal.
A CSX spokeswoman did not immediately return a call from The Associated Press seeking comment.
Besides Jacksonville, Florida-based CSX Corp., the other large railroads include Norfolk Southern, Union Pacific, BNSF and Canadian National.
Railroad lobbyists have told Congress that the industry is struggling to keep up with a sharp increase in freight rail demand created in part by an oil fracking boom and two years of unusually bountiful harvests. Shippers have complained that widespread delays in freight rail shipments are hurting an array of industries.
Canadian Pacific said Monday that a "pro-competition, customer-friendly" railway combination that also focuses on safety is a solution that could not be ignored on its merits by regulators. The railroad operator added that the industry's significant problems "will only worsen over time if solutions aren't put in place immediately."
CSX operates more than 21,000 miles of track in 23 Eastern states and two Canadian provinces.
CSX shares fell 4 percent, or $1.36, to $32.50 about an hour before markets opened Monday. The stock had climbed about 18 percent so far this year, as of Friday's close, while the Standard & Poor's 500 index rose about 2 percent.
---
More from MBTMag.com
Will Apple Pay Be The Next iRevolution?
AMD Cutting Global Workforce
U.S. Economy Strong Despite Global Slowdown Fear
Explore more news

here

.