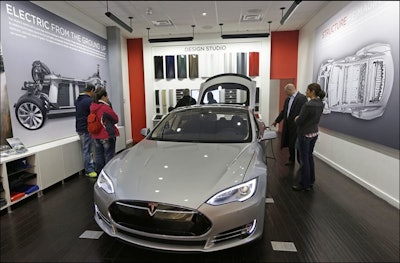 COLUMBUS, Ohio (AP) -- Electric car maker Tesla Motors could operate three dealerships in Ohio under an amended bill unanimously passed by the state Senate on Tuesday.
Passage comes after Ohio auto dealers struck an agreement last week with the California-based Tesla that would allow the company to continue operating its existing stores in Columbus and Cincinnati.
Under the deal, Tesla could open one more store, which is planned for Cleveland. It then would be barred from opening others. The measure would prohibit other manufacturers from selling vehicles directly to the public.
Ohio had been among states proposing to block Tesla from setting up additional direct-sales galleries on grounds that they undercut traditional auto dealerships.
Dealers in Ohio saw Tesla as a threat to a system in which nearly all dealerships are independently owned franchises that are separate from manufacturers. They had told state lawmakers that their businesses can only prosper when the law separates manufacturers and dealers.
The issue arose after the Ohio Bureau of Motor Vehicles issued a license to Tesla authorizing the company to open its own stores in Cincinnati and Columbus.
Senate President Keith Faber, a Celina Republican, said the agency's move was out of step with prior precedent, and the bill seeks to address the decision.
Asked whether others in the auto industry have had problems with the state franchise law, Faber told reporters, "Other than Tesla and their unique brand of marketing, I have never heard a concern outside of Tesla."
The proposal now goes to the Ohio House for consideration.
---
More from MBTMag.com
Microsoft Windows 8 Updates Expected
Judge Awards University $1.54B In Patent Dispute
U.S. Auto Sales Expected To Rise
Explore more news

here

.