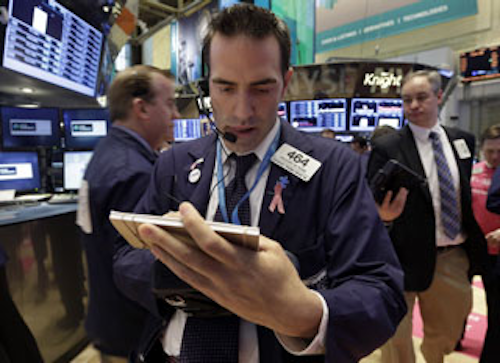 WASHINGTON (AP) — The economy is expected to have grown at a dismal pace in the April-June quarter, weighed down by large tax increases and steep government spending cuts.
But the second quarter should be the low point for the year, economists say. The fiscal drag is expected to fade. At the same time, steady hiring, more business spending and a solid recovery in housing should push growth higher in the second half of the year.
Economists forecast that growth slowed in the April-June quarter to a seasonally adjusted annual rate of just 1 percent, according to a survey by FactSet. That's below the tepid rate of 1.8 percent in the January-March quarter.
The Commerce Department will release the first estimate of gross domestic product, or GDP, for the second quarter at 8:30 a.m. EDT Wednesday. GDP is the broadest measure of the output of goods and services, including everything from manicures to industrial machinery.
Most economists say growth is already starting to pick up. And many are predicting annual growth rates of between 2 percent and 3 percent in the third and fourth quarters.
There are threats to the better outlook. Unemployment is still high at 7.6 percent, limiting consumer spending. And budget fights in Washington could lead to a government shutdown this fall, potentially disrupting the economy.
Still, recent data have been encouraging.
"More and more of the economic tea leaves are pointing in the same direction: toward a growth revival ahead," Scott Anderson, chief economist at the Bank of the West, said.
Home construction, sales and prices have been growing since early last year. Americans purchased newly built homes in June at the fastest pace in five years. That's raised builder confidence to a seven-year high, which should lead to increases in construction and more jobs.
Overall hiring has accelerated this year. Employers have added an average of 202,000 jobs a month from January through June. That's up from 180,000 in the previous six months.
Better hiring has started to boost inflation-adjusted incomes after several years of stagnant wages. Joe Carson, chief U.S. economist at AllianceBernstein, a mutual fund company, calculates that average hourly pay rose at a 3.1 percent annual rate in the second quarter, the fastest pace since the fourth quarter of 2008. That was comfortably ahead of inflation, at just 1 percent.
And business spending has started to increase. Companies have ordered more industrial machinery and other equipment for four months in a row. As those orders are filled, factory production should increase.
Manufacturing is also benefiting from strong auto sales, which topped 7.8 million in the first six months of 2013, the best first-half total since 2007. Analysts expect sales will stay strong for the rest of the year.
Carson notes that housing and autos were the primary sources of growth in the second quarter. Both have benefited from the Federal Reserve's low-interest rate policies. Those sectors usually rebound early in recoveries. But after the Great Recession ended in June 2009, they were held back by tight credit and cash-strapped consumers.
"It's almost like a traditional recovery is just starting, even though we're in the fifth year," Carson said.
Federal Reserve officials have forecast better growth in the second half of the year. And Fed Chairman Ben Bernanke has said that the central bank could begin to scale back its bond purchases later this year if the economy strengthens. But Fed officials typically put greater weight on employment and inflation data than the GDP figures.
The Fed concludes a two-day policy meeting on Wednesday, at which point it could clarify its interest-rate policies.
Most economists blame tax increases and government spending cuts for the sluggish second quarter. Higher taxes slowed consumer spending. And government cuts subtracted nearly a full percentage point from growth at the start of the year.
Even so, the solid pace of hiring suggests the economy is doing better than the growth figures show. Tax receipts have been stronger. Faster growth in the second half of the year would help close those gaps.
The government is also expected to release comprehensive revisions on Wednesday. Roughly every five years, the department incorporates more recent data and adjusts how it calculates GDP.
The revisions will likely show growth was faster in the first quarter and last year than previously estimated, economist say. Michelle Meyer, an economist at Bank of America Merrill Lynch, estimates the revisions could add up to a half-point to last year's 2.2 percent growth rate.
The revisions will also alter GDP data all the way back to 1929. In one major change, the government plans to count spending on research and development as investment, rather than as a regular cost of doing business. That, along with other changes, will boost the level of GDP in 2007 by about 3 percent, or $450 billion. It isn't likely to significantly change the pace of growth in recent years.
---
More from MBTMag.com
Obama Proposes 'Grand Bargain' For Jobs
Manufacturing Drop Shows Weakness In Japan Economy
Industry Fights Safety Retrofit Of Older Rail Cars
Explore more news
here
.