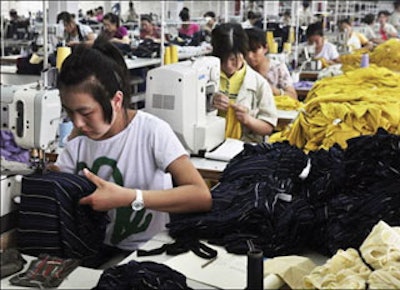 BEIJING (AP) -- China's economic growth rebounded in the latest quarter, easing pressure on communist leaders for more stimulus and allowing them to focus on longer-term reforms.
The world's second-largest economy grew by 7.8 percent over a year earlier in the three months ending in September, boosted by higher government spending, data showed Friday. That was up from a two-decade low of 7.5 percent the previous quarter.
"The fundamentals of China's economy are turning for the better," said a National Bureau of Statistics spokesman, Sheng Laiyun, at a news conference.
The improvement eases pressure on communist leaders who say their priority is longer-term reforms aimed at steering the economy to slower, more sustainable growth based on domestic consumption instead of exports and investment.
The abrupt drop in global demand for Chinese goods prompted them to backtrack temporarily and launch a mini-stimulus of higher spending on railway construction and other public works to prop up growth and avoid politically dangerous job losses.
Communist leaders are due to meet in November to craft an economic development blueprint that reform advocates hope will include market-opening and more financial support to private entrepreneurs.
The country's top economic official, Premier Li Keqiang, said earlier Beijing would try to keep growth above 7.5 percent. That is far above levels forecast for the United States, Europe and Japan but barely half of 2009's 14.2 percent growth.
Asian stock markets were boosted by the Chinese growth figure but analysts have warned the rebound might not last because growth depends on government spending. Global demand is weak and Chinese consumer spending is growing more slowly than Beijing wants.
"China's economy rebounded in the third quarter because of the government's stimulus measures," said Moody's Analytics economic Alaistair Chan in a report.
The deceleration of China's economy is denting revenues for suppliers of commodities and industrial components such as Australia, Brazil and Southeast Asia. Lower Chinese demand already has depressed prices for iron ore and other raw materials.
Friday's data highlighted the economy's heavy reliance on government-led investment and the weakness of trade.
Spending on factories and other fixed assets contributed 55.8 percent of the latest quarter's growth, or 4.3 percentage points of the 7.8 percent expansion, according to Sheng. Domestic consumption was 45.9 percent of growth, or 3.7 percentage points of the total.
Trade was so weak that its contribution to overall growth was negative, according to Sheng, and detracted 0.1 percentage point from the quarter's growth rate.
September exports suffered a rare and unexpectedly sharp decline of 0.3 percent, falling short of forecasts. Surveys of manufacturers show September activity barely expanded.
The International Monetary Fund is forecasting Chinese growth this year of 7.6 percent, which would be the weakest performance since the early 1990s. Some private sector analysts have cut their growth forecasts for next year to below 7 percent.
In an apparent effort to lower expectations, Finance Minister Lou Jiwei said in June that growth as low 6.5 percent might be acceptable.
In a positive sign for the ruling party, Sheng said the economy created 10 million jobs in the first three quarters of the year.
Factory output in September rose 10.2 percent from a year earlier, up 1.1 percentage points from the first half's growth rate, according to statistics bureau data.
Growth in fixed asset investment rose 20.2 percent in the first three quarters of the year, compared with 20.1 percent for the first half, the data showed. Retail sales also accelerated, rising 13.3 percent in September, up from a 12.9 percent growth rate for the first three quarters.
---
More from MBTMag.com
Wash. Ag Sues Food Industry Group Over I-522
EU Court Orders Italy To Recoup $400M From Alcoa
UN Sees Mercury Use Phase-Out Within 3 Decades
Explore more news
here
.