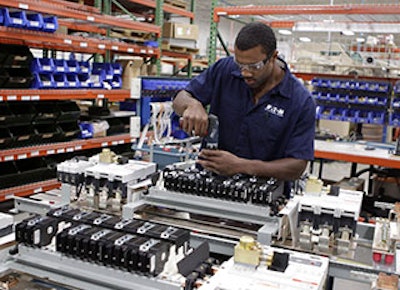 WASHINGTON (AP) -- U.S. factories barely boosted their output in September, adding to other signs that the economy was slowing even before the government shutdown began on Oct. 1.
The Federal Reserve says manufacturing production rose only 0.1 percent. That's down from a 0.5 percent gain in August, which was slightly lower than previously reported.
Auto plants increased output in September, but the gain was offset by declines at makers of computers, furniture and appliances.
Overall industrial production increased 0.6 percent in September, mostly because of a 4.4 percent jump in utility output.
Utilities had fallen for five months, but September was unseasonably warm, likely increasing air conditioning use. Mining output, which includes oil production, rose 0.2 percent, its sixth straight increase.
Factory output is the largest component of industrial production.
---
More from MBTMag.com
Jack Daniel's In Legal Fight With Small Distiller
FDA Proposes Rules To Make Animal Food Safer
Stryker To Pay $13.3M To Resolve SEC Inquiry
Explore more news
here
.