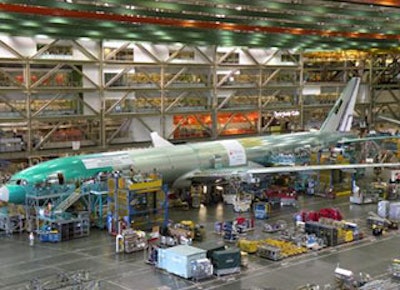 SEATTLE (AP) -- On the second day of talks between Boeing Commercial Airplanes officials and Machinists union leaders, the union said Wednesday it presented a preliminary proposal for a contract that would mean much of the work on the company's new 777X jet would be done in the Puget Sound region.
The proposal would secure wing fabrication and final assembly work for Machinists in Washington state, the union said in a statement.
The two sides first renewed talks Tuesday, which was Boeing's deadline for other states to submit proposals for work on the new jet.
The Machinists union offered no details of its offer.
"We tried to craft a proposal that would meet the needs of our members, while also ensuring the long-term success of the Boeing Co. in Washington state," said Tom Wroblewski, president of Machinists Union District Lodge 751.
Wroblewski said he expects Boeing will respond to the offer Thursday.
The tone of Wednesday's talks was "respectful and constructive," Wroblewski said, but he added that the two sides are not close to an agreement.
Boeing spokesman Doug Alder did not immediately return a call from The Associated Press seeking comment. He declined to provide any negotiation details to The Seattle Times.
"As we've said from the beginning of the 777X site selection process, we continue to look at all of our options," Alder told the newspaper. "As we start evaluating the proposals, we'll engage with all interested parties."
On Nov. 13, the Machinists union rejected a proposed eight-year contract for the 777X work, in part because it would have replaced workers' traditional defined-benefit pension with a defined-contribution savings plan.
The Chicago-based company said it would look elsewhere and gave states until Tuesday to submit proposals. Across the country, states have rushed to impress the aerospace giant with lavish incentive packages that offer property, labor deals and billions of dollars in tax breaks.
In its own bid to win the 777X jobs, Washington state recently approved tax breaks for Boeing valued at $9 billion over the coming years, and legislation to improve aerospace training programs and the permitting process.
"It's certainly good news that the two sides are talking directly," David Postman, a spokesman for Washington Gov. Jay Inslee, said Wednesday. "Since November, the governor has been talking to each of them individually and asking them to get back to the table."
"Our members want Boeing to be successful, and Boeing's best chance of success for the 777X is to build it here," Wroblewski said in his statement. "A business analyst might call our Machinists the high-skill, low-risk solution to Boeing's manufacturing needs. I'd just call us the best aerospace workers in the world."
---
More from MBTMag.com
FDA Targets Antibiotics In Meat
Quick Sale In Fisker Bankruptcy Remains On Track
GOP, Obama Line Up Behind Modest Budget Deal
Explore more news
here
.