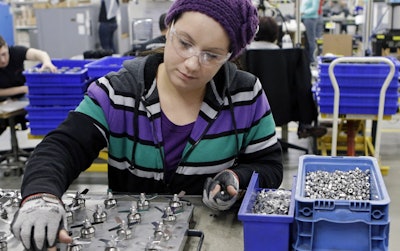 Local manufacturers and wholesalers surveyed by Exact, a leading provider of software solutions for small and medium-sized businesses, shows optimism that business will continue trending upward in 2015. The majority of small businesses anticipate more growth in 2015 than 2014. To celebrate this optimism, Exact is encouraging local businesses to "Tune Up for 2015."
"This past year was exciting for our business and we're ready for even bigger things in 2015," said Exact customer Mark Melfi, who is the president of Southfield Packaging, a leading provider of contract packaging, warehousing and fulfilment solutions, located in Stamford, Connecticut. "Part of the reason we're optimistic is that, thanks to technology, we now have better visibility across our business. Now we don't have to hope that our business is entering the year in good shape, we know it is."
To participate in "Tune Up for 2015," businesses simply need to go to http://connect.exactonline.com/Tune-Up-for-2015 and sign-up. After a demonstration, the business will receive four months of the subscription service at 50% off and a free 2-hour getting started consultation on how using affordable business software in the cloud makes it easy to run a business more efficiently and profitably.
"We hardly need a survey to know that small businesses are more optimistic about the coming year," said Steve Leavitt, GM of U.S. Cloud Solutions at Exact. "I talk to small businesses every day, and I know that thanks to better technology, our local manufacturers – and the wholesalers who sell what they make – are equipped with the right insights to make them more competitive than ever before. This is great news for both our local and national economies."
Designed specifically for small business manufacturing and wholesale distribution, Exact Online software streamlines tasks such as production and inventory management, logistics and CRM. By leveraging the cloud, Exact Online enables small business manufacturers and wholesale distributors to keep track of business data, manage sales and production processes and instantly view and report stock availability, all from their PC or a mobile device.
---
More from MBTMag.com
Economists Forecast Fast Growth In 2015
High Court Rejects BP Appeal Of Spill Settlement
Apple Exec Sentenced To 1 Year In Prison
Explore more news
here
.