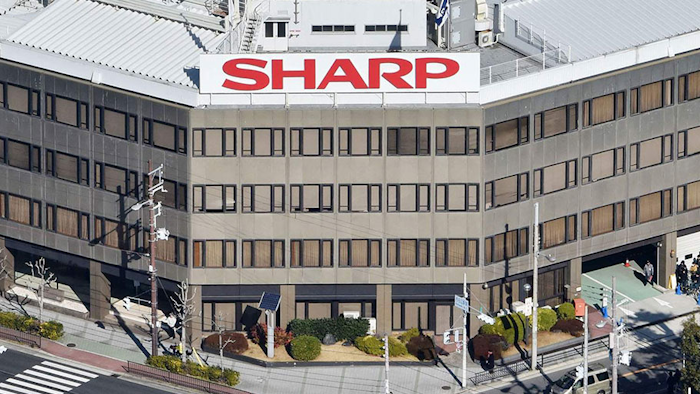 Sharp Corp. decided Wednesday to accept a reduced takeover offer made by Hon Hai Precision Industry Co., after its month-long review of the financial standing of the troubled Japanese electronics maker.
Hon Hai, better known by its trade name Foxconn, will invest 388.8 billion yen ($3.47 billion), rather than the 489 billion yen previously announced in February. The Taiwanese company will own 66 percent of Sharp.
If the deal goes through, Sharp, a century-old household name in Japan, will become the country's first major technology company to come under foreign ownership.
Sharp's board decided on Feb. 25 to accept Hon Hai's previous takeover proposal. But Hon Hai then put the deal on hold to evaluate information that Sharp supplied a day earlier about its potential liabilities.
The rescue deal will enable Hon Hai, the world's biggest assembler of Apple Inc. products such as iPhones, to make use of Sharp's advanced liquid crystal display technology and expand its business.
The Japanese company aims to mass-produce next-generation organic light-emitting diode displays, which analysts say could be used in future iPhone models.
Sharp board members approved making changes to the original rescue plan on Wednesday. Hon Hai also held a board meeting the same day and approved the takeover of Sharp.
The two companies will sign a final agreement on Saturday. Sharp President Kozo Takahashi and Hon Hai Chairman Terry Gou will hold a press conference on Saturday in Sakai, Osaka prefecture.
"We have much that we want to achieve and I am confident that we will unlock Sharp's true potential and together reach great heights," Gou said in a joint press release.
Takahashi also expressed hope that the two companies' strategic alliance will accelerate innovation.
Losses at its liquid crystal display business have raised the need for Osaka-based Sharp to improve its finances.
On Wednesday, Sharp cut its earnings outlook for the current business year ending Thursday, projecting an operating loss of 170 billion yen on sales of 2.45 trillion yen. It previously forecast an operating profit of 10 billion yen on 2.7 trillion yen in sales.
Sharp's creditor banks -- the Bank of Tokyo-Mitsubishi UFJ and Mizuho Bank -- are expected to provide a credit line of 300 billion yen and lower interest rates on existing loans.
The two major Japanese banks have agreed to extend a March 31 deadline for loans to Sharp totaling 510 billion yen by one month to April 30, Sharp said.
Taiwan's Ministry of Economic Affairs said Wednesday that it will in the coming days receive an application from Hon Hai to make the foreign investment, the fourth-largest by a Taiwan firm, and will examine whether or not to allow it. Ministry officials said that approval could be given within a month at the earliest.
For Hon Hai, it has been a years-long quest. A 2012 agreement to form a capital tie-up broke down after asharp fall in the value of Sharp shares.
Sharp chose Hon Hai over the Innovation Network Corporation of Japan, a state-backed fund that had envisaged a realignment of the domestic electronics industry while rescuing Sharp.