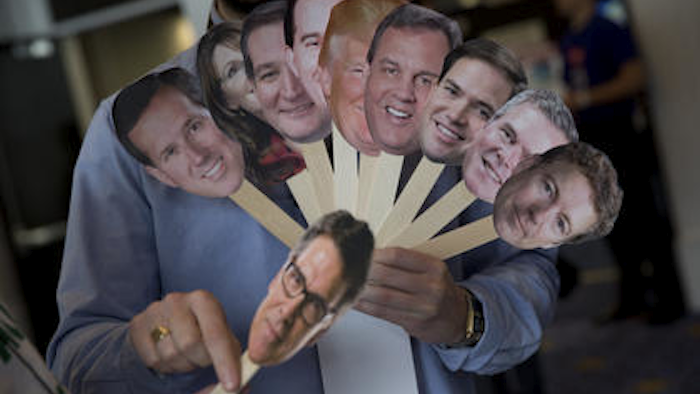 Despite his criticism of China and Mexico for contributing to the loss of manufacturing jobs in the United States, Donald Trump's own branded merchandise wasn't always made in America, the Alliance for American Manufacturing (AAM) said on Aug. 6.
The AAM is looking at all of the 2016 presidential candidates from a manufacturing perspective, tallying which candidates sell merchandise made in the United States.
The group focused particularly on Trump in a recent press release, saying that "Trump certainly talks tough on China, jobs, and trade, but he doesn't back it up with his own actions – while many manufacturers fight to Make it in America in spite of the odds."
In his 2015 presidential announcement speech on June 16, Trump said "A lot of people up there can't get jobs. They can't get jobs, because there are no jobs, because China has our jobs and Mexico has our jobs. They all have jobs."
Trump came under fire shortly after that speech when "Made in China" was spotted on merchandise sold in the Trump Store inside Trump Tower in New York City.
As of Aug. 10, the apparel and signs for sale in Trump's online store sported the assertion "Proudly Made in USA."
The Alliance for American Manufacturing is looking at all five Democrats and 16 Republicans angling for the White House in 2016. Democratic candidates former Secretary of State Hillary Clinton and Sen. Bernie Sanders (D-Vt.) and Republicans Ohio Gov. John Kasich, Sen. Marco Rubio (R-Fla.) and Sen. Ted Cruz (R-Texas) appear to make all of their campaign merchandise in America.
Some of the campaign merchandise in support of Republicans Mike Huckabee and former Texas Gov. Rick Perry is made in America, including former Arkansas Gov. Huckabee's polo shirts, T-shirts, yard signs, and campaign buttons, and Perry-branded clothing. Some of the Sen. Rand Paul (R-Ky.) merchandise, including hats, a MacBook skin cover, Beats headphones skins, and posters, are made in the United States. Paul also held a design contest, with the winner's art appearing on a T-shirt.
Paul was recently criticized for claiming that all of the items sold in his campaign store are made or printed in the United States, although the tag on one of the shirts said "Made in Guatemala."
"Unfortunately, not all products sold in the US are American made," a spokesman for Paul's campaign told CBS, "but we are continually looking for products to offer that are."
Trump has also defended his choice of Chinese products in the past as a decision made out of necessity. "A friend of mine is a great manufacturer. And, you know, China comes over and they dump all their stuff, and I buy it," Trump said in his campaign speech. "I buy it, because, frankly, I have an obligation to buy it, because they devalue their currency so brilliantly."
Some of Wisconsin Gov. Scott Walker's merchandise is made in America, such as T-shirts, coffee mugs, and baseball hats.
Louisiana Gov. Bobby Jindal has not opened an online campaign store yet, but the one shirt he has for sale – "the first limited edition Jindal for President t-shirt" – is listed as made in America.
The AAM plans to continue to keep tabs on which presidential candidates are producing American-made merchandise throughout the campaign period.