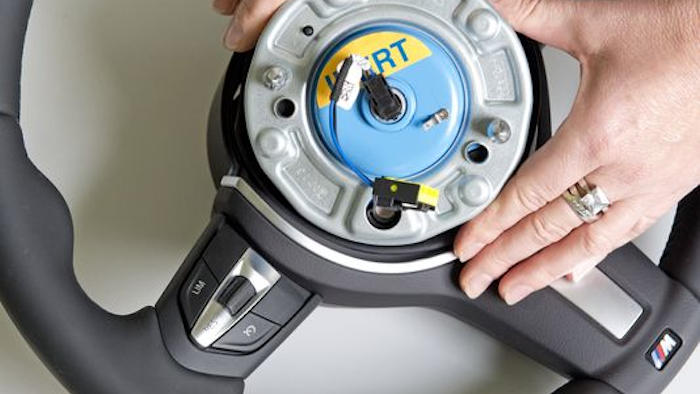 Houston, Texas — An autopsy has found that a metal disc from a defective air bag sliced into a Texas man's neck and killed him after a low-speed car accident last month near Houston.
The Harris County Institute of Forensic Sciences concluded that Carlos Solis had suffered no other serious injuries, and his death was accidental. The report, which became public late last week, listed the cause of death as blunt-force injuries to the neck.
Solis, 35, a father of two, died Jan. 18 in the Houston suburb of Spring. His 2002 Honda Accord had a driver's air bag made by Takata Corp. of Japan. Those can inflate with too much force, causing them to blow apart a metal inflator canister and send shrapnel into the passenger compartment.
Solis is among six people killed and 64 injured by the inflator mechanisms, which have caused the recalls of 19 million vehicles worldwide and touched off investigations by the U.S. Justice Department and safety regulators.
Takata offered condolences to Solis' family and said it's committed to working with the U.S. government and automakers to "take all actions needed to promote public safety." Honda offered its condolences, saying it is "currently in communication with representatives of the family in an effort to further investigate the situation and to address their concerns."
The white metal disc was 2¾ inches in diameter and weighed about 13 ounces, according to the report. It caused a gaping cut in Solis' neck that severed an artery and vein. "Appearance consisted of a slightly distorted air bag inflator component," the report stated. The disc lodged in the right side of Solis' neck near his shoulder, according to the report.
Pictures of the crash showed it did little damage to the left front bumper, fender and hood of Solis' car.
Solis bought the car in April from an independent dealer in the Houston area. It was part of 2011 recall to fix a defective driver's air bag inflator, but neither the dealer nor two previous owners had the recall repairs done. Honda has said it mailed recall notification letters to a previous owner of the Accord starting in 2011, but it had not yet sent a letter to Solis. The company urged anyone with a vehicle recalled for air bag problems to take the cars to dealers as soon as possible.
Solis' family is suing Honda, Takata and the dealer who sold Solis the car.