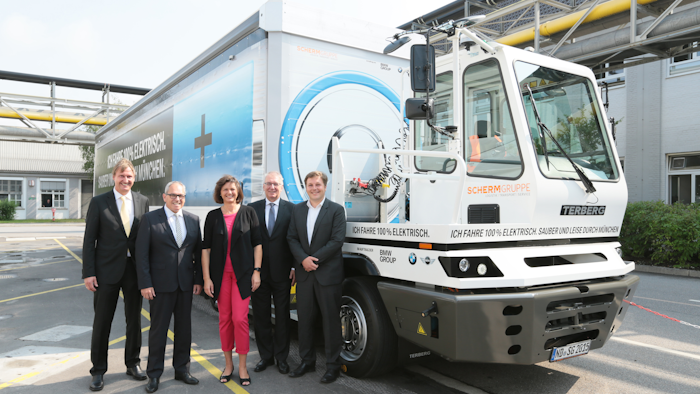 The BMW Group began using an all-electric semi-truck to transport vehicle components from the SCHERM group logistics center to the BMW plant in Munich on July 7, making it the first automobile manufacturer in Europe to use a 40-ton, electric-driven truck for everyday hauling on public roads.
The truck, built by the Dutch manufacturer Terberg, has a 100 kilometer range on a single charge, which takes three to four hours to complete. That lets it travel for a full work day – eight trips per day – without needing to recharge.
BMW said the truck will save 11.8 tons of carbon dioxide from entering the atmosphere annually, as well as saving money on gas. It comes as BMW is putting emphasis on its electric and hybrid-electric BMW I brand, which came onto the market in 2013.
Ilse Aigner, the Bavarian minister for economic affairs, said that the country is pushing to stay on the cusp of electric automobile technology. "Bavaria is a leading industrial and research location. It is crucial that the Bavarian economy is also at the forefront in electric mobility," she said.
"With this project we will gain valuable information on what will be possible with electric trucks in the future for city logistics," said Jürgen Maidl, head of logistics at BMW Group.
The SCHERM group, a transport logistics company, also praised the use of green energy. "The electric truck is the first step towards CO2-reduced transport logistics," said CEO Kurt J. F. Scherm.
The electric truck will continue to run the BMW Group's typical transport routes through Munich, advertising for battery-powered vehicles as it goes with a trailer painted to resemble a battery.