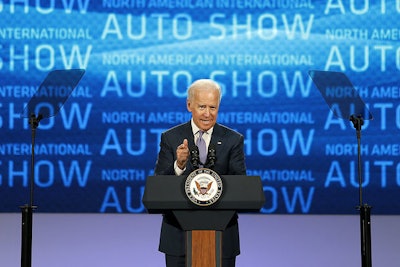 DETROIT (AP) — Vice President Joe Biden, an avowed "car junkie," said Thursday the U.S. auto industry's resurgence since the 2009 federal bailout provides a strong basis for a Motor City recovery.
Biden delivered a speech and toured the North American International Auto Show in Detroit, which showcases vehicles and hosts visitors from around the world. He promised an "American century in manufacturing" after the bankruptcies and near-industry meltdown about five years ago.
"We bet on American ingenuity, we bet on you, and we won," Biden told the audience, flanked by a half-dozen General Motors, Ford, and Chrysler vehicles.
All three Detroit automakers have made billions in the recovery following the Great Recession. Ford expects to post an $8.5 billion profit before taxes for 2013, while GM made $4.8 billion pretax through the first nine months. Chrysler, the smallest and least-profitable of the three, made $1.4 billion pretax through September.
All have rolled out strong new cars and trucks to catch the rise in auto sales from a low of 10.4 million in 2009 to 15.6 million last year.
Biden, the son of a car dealer and proud owner of a 1967 Chevrolet Corvette Stingray, said the industry revival also means good things for Detroit, which is undergoing the nation's largest municipal bankruptcy — four years after General Motors and Chrysler emerged from their own restructurings.
He said the automakers success comes in large part from significant hiring, adding that they aren't "just jobs, these are middle-class jobs — jobs upon which you can raise a family." There's also the psychological boost to a region whose primary industry is regaining market share, making award-winning vehicles and hosting an auto show that draws about 800,000 people.
"Just like the automobile industry came back, Detroit is going to come back," Biden said. "It's not only an important city but it's an iconic city. It symbolizes the manufacturing might of the United States of America."
Biden was introduced by new Detroit Mayor Mike Duggan, with whom the vice president dined at an Italian restaurant the evening before. The White House hasn't promised a Motor City bailout, but in September it pledged more than $100 million in grants to help Detroit tear down vacant buildings and spur job growth.
When the speech was over, Biden toured the auto show floor, hopping in cars and trucks and chatting with auto industry executives like new GM Chief Executive Mary Barra. He caressed the back of a shiny new Ford F-150 and told reporters, "I feel like a kid in a candy shop," and "I wanna take a couple of these home."