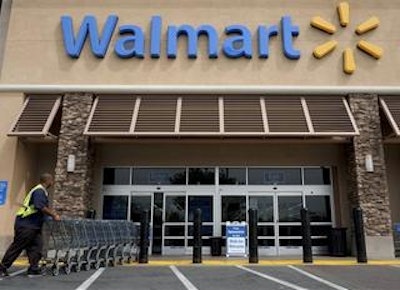 WASHINGTON (AP) -- Federal officials filed a formal complaint Wednesday charging that Wal-Mart violated the rights of workers who took part in protests and strikes against the company.
The National Labor Relations Board says Wal-Mart illegally fired, disciplined or threatened more than 60 employees in 14 states for participating in legally protected activities to complain about wages and working conditions at the nation's largest retailer.
The labor board's general counsel first laid out similar charges in November, but held off on filing a complaint while trying to work out a settlement with Wal-Mart. Those discussions were not successful, government officials said in a statement.
The company has insisted its actions were legal and justified.
"We now we have the opportunity to present the facts of these cases in front of a judge," said Wal-Mart spokeswoman Brooke Buchanan. "No reasonable person thinks it's ok for people to come and go from their scheduled shift without being held accountable."
The protests in 2012 were organized by the union-backed group OUR Walmart, which has spent years pressing Wal-Mart to increase wages and benefits and make it easier for workers to organize a union. The group claims the majority of Wal-Mart associates are paid less than $25,000 a year.
Wal-Mart has until Jan. 28 to respond to the complaint. The case will then go before an administrative law judge. If Wal-Mart is found liable, it could be required to award workers back pay, reinstatement and reverse any disciplinary action. But the company could still try to work out a settlement as the case goes forward.
"We've never seen a complaint against Walmart of this size or scope, and we're glad the NLRB is taking action," said Sarita Gupta, executive director of Jobs With Justice, one of the groups critical of Wal-Mart. "Walmart's attacks on its own employees and cannot go unchecked."
The complaint alleges that In November 2012, Wal-Mart spokesman David Tovar went on CBS News and said there would be "consequences" for workers who engaged in strikes and protests ahead of Black Friday, the big shopping day after Thanksgiving. Similar comments were made to employees at Wal-Mart stores in California and Texas, the complaint said.
Thousands of people — including dozens of Wal-Mart workers — went forward with protests at Wal-Mart stores around the country. The company ultimately fired 19 workers who took part, despite the fact that their actions were protected by the National Labor Relations Act, the complaint said.
The NLRB complaint further alleges that Wal-Mart unlawfully threatened, disciplined or terminated workers for engaging in protected strikes and protests in California, Colorado, Florida, Illinois, Kentucky, Louisiana, Maryland, Massachusetts, Minnesota, North Carolina, Ohio, Texas and Washington.
Wal-Mart also illegally threatened, disciplined or fired employees at stores in California, Florida, Missouri and Texas in response to other worker activity that is protected by labor laws, the complaint alleged.