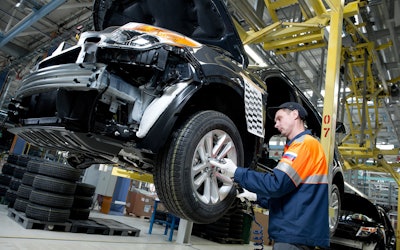 Ford Motor Co. says its Russian joint venture is cutting 950 jobs due to falling sales and the declining value of the ruble.
The automaker says that Ford Sollers will cut 700 jobs at its plant in St. Petersburg and an estimated 250 temporary employees in Tartarstan. The reductions affect about 19 percent of its 5,000-person workforce in Russia.
Ford, based in Dearborn, Mich., has a long history in Russia.
It first entered the market in 1907 and opened its first Russian manufacturing plant in 2002. The Ford Sollers joint venture began operations in late 2011 through an agreement with a Russian automaker. The joint venture has grown from building two vehicle models in Russia to nine models; everything it builds in Russia is sold there.
The company said Wednesday that it still expects Russia to become Europe's largest auto market in the long run. But weaker demand for compact cars and the impact of the falling ruble against other currencies have hindered its business.
The joint venture said that its sales in Russia fell 21 percent as of the end of February, by comparison to the prior month.
Ford said that the decision is independent of Russia's annexation of Crimea, noting that the majority of the decline in the value of the ruble occurred before the start of the situation in the Ukraine.
The joint venture still plans to move forward with plans to build and launch the EcoSport small SUV and a new Transit commercial vehicle this year, as well as go into production of the new Ford Focus and Mondeo in 2015.