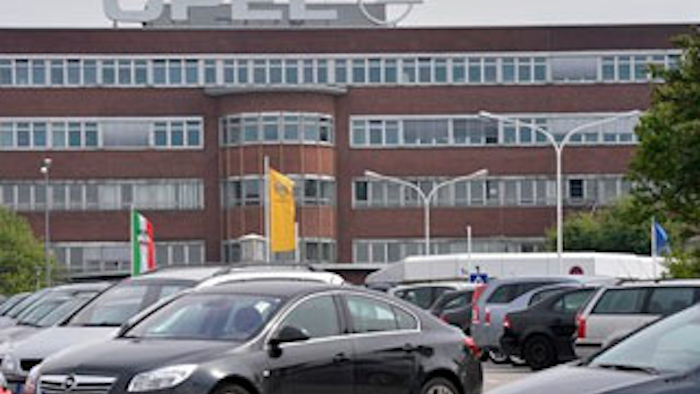 FRANKFURT, Germany (AP) — General Motors' lossmaking Opel subsidiary has outlined a plan to end production at its plant in Bochum, Germany, in return for extending a no-layoff guarantee for two years through 2016.
Opel said in a statement Wednesday that it was in "active talks" with employee representatives and unions about new proposals to make more efficient use of its German factories and turning around the lagging European business.
Those included putting off a scheduled pay increase for workers in Germany and possibly building non-Opel models in Germany to keep plants running 24 hours a day.
In return, the company would extend a no-layoff pledge through the end of 2016 instead of through 2014 as under current bargaining agreements.
Opel said its Bochum plant would not get further production allotted to it after the end of the life cycle of the Zafira Tourer now made there. The company did not say when Zafira production might end. But the plant was already expected to face closure when the current labor agreement expires, and the new no-layoff pledge appears to extend its life for another two years.
Bochum is an older, higher-cost facility that has figured prominently in speculation that Germany will close one of its four plants in the country. Tuesday's announcement appeared to underline GM's determination to eventually close the facility. Factory closings are expensive and politically difficult in Germany, where severance costs can be high, worker representatives sit on company boards and unions have political clout.
GM has made clear it is determined to return to profitability its money-losing European business, which includes Opel and the Vauxhall brand in Britain, despite tough competition among mass-market carmakers.
Opel said it was still in talks with the IG Metall union and employee representatives on the proposals and that further negotiations would be needed. Opel's chief employee representative, Wolfgang Schaefer-Klug, praised the deal outlined Wednesday, saying "the main points of the proposed business plan go in the right direction." He said the no-layoff pledge was a condition for continuing the talks.
One key concession from the unions would be to agree to delay a 4.3 percent pay increase won this year in industry-wide negotiations. In Germany, base industrial wage agreements are negotiated between company associations and the IG Metall union representatives for regions, not company by company.