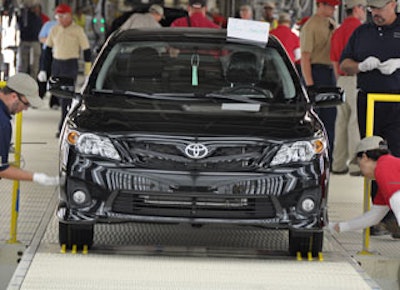 NAGOYA, Jan. 7 (Kyodo) — Toyota Motor Corp. has no plans to build new factories in the near future as the automaker will shift its focus to investing in its existing plants, company officials said Monday.
The automaker's plans to build new factories in Thailand and Indonesia in 2013 will remain intact, they said.
Toyota's new investment plan comes amid dim prospects for a sharp increase in new demand in countries such as China, the world's biggest auto market, in the wake of a bilateral territorial dispute. The automaker will likely miss its goal to achieve sales of up to 1.8 million units in China in 2015 from around 900,000 units in 2011.
The Toyota group aims to produce 9.94 million vehicles globally this year, slightly more than the record 9.92 million units in 2012, as demand will likely continue to be strong in the United States as well as emerging Asian markets.