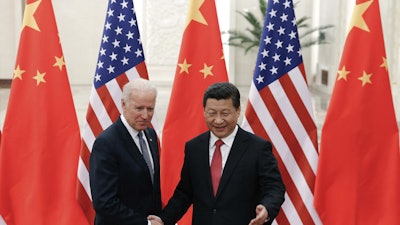 BEIJING (AP) -- Emerging from a meeting with Chinese President Xi Jinping, U.S. Vice President Joe Biden said Wednesday that U.S.-China relations depend on trust and a positive notion of each other's motives. Neither leader made public mention of a major clash over disputed airspace that's pitted China against the U.S. and its Asian allies.
Appearing somber and subdued, Biden said the relationship between the two major powers will significantly affect the course of the 21st century. If the U.S. and China can get that relationship right, the possibilities are limitless, Biden said as reporters were allowed in briefly at the conclusion of the meeting in Beijing.
"Complex relationships require sustained, high-level engagement, and that's why I'm here," Biden said after a meeting than ran more than an hour longer than scheduled. Biden and Xi had a second, expanded meeting and a working dinner planned for later Wednesday.
Absent from Biden's comments was any discussion of U.S. concerns over China's new air defense zone. In Tokyo a day earlier, Biden pledged to raise those concerns "with great specificity" with Xi and other Chinese leaders, adding that China's move was deeply concerning.
"This action has raised regional tensions and increased the risk of accidents and miscalculation," Biden said Tuesday after meeting with Japanese President Shinzo Abe, whose government has been on edge for the past two weeks since China unilaterally asserted its authority over airspace above tiny islands that China and Japan both claim.
For his part, Xi said the relationship between the U.S. and China had gotten off to a good start this year "and has generally maintained a momentum of positive development." But he said the situation in the region and around the world is changing, with more pronounced challenges and regional hotspots that keep cropping up.
"The world as a whole is not tranquil," Xi said through a translator, adding that the U.S. and China shoulder important responsibilities for upholding peace. "To strengthen dialogue and cooperation is the only right choice facing both of our countries."
Added Biden, "The way I was raised was to believe that change presents opportunity."