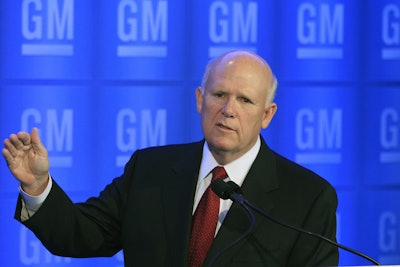 WASHINGTON (AP) -- Retiring General Motors Co. CEO Dan Akerson says the government bailout of his company was a net gain for taxpayers — even though they lost $10.5 billion.
Akerson says if GM had gone under, taxpayers would have had to pick up the company's $26 billion pension obligation. The government also would have lost billions in tax revenue and benefit payments.
He says GM won't repay the $10.5 billion because the government agreed to make loans and take company stock in exchange for the bailout.
GM repaid its loans and the government sold the last of its stock last week The government spent $49 .5 billion to save GM in 2008 and 2009.
Akerson made the comments to reporters ahead of a speech to the National Press Club on Monday.
In prepared remarks for the club, Akerson said he accomplished his goals and is leaving a strong foundation.
Akerson announced last week that he's stepping down Jan. 15 to care for his ailing wife.
The board named product development chief Mary Barra to replace him as CEO.
Akerson said that GM's new leaders have experience, optimism and a strong competitive streak.
But he cautions that the next chapter in GM's history will not be easy for Barra and her team.
Akerson said he accomplished goals of restoring GM's good name, transforming the way it operates, and putting quality and customers at the center of decisions.
The 65-year-old Akerson took over in 2010 shortly after GM emerged from government-funded bankruptcy.