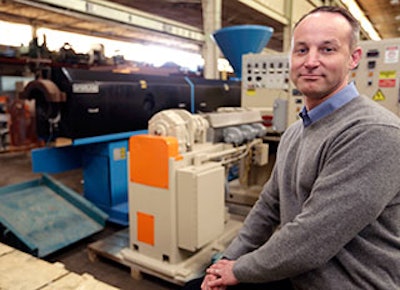 NEW YORK (AP) — Small businesses may get an export boom under trade agreements the federal government is hammering out with Pacific and European countries.
Just 1 percent of U.S. companies export. Overseas markets represent a huge opportunity for small businesses that want to increase their revenue, but expensive tariffs, burdensome paperwork and delays in customs makes doing business with some countries more trouble than it's worth.
The Trans-Pacific Partnership and the Trans-Atlantic Trade and Investment Partnership could change that. The agreements aim to make exporting easier by eliminating tariffs, reducing paperwork and getting goods through customs faster. That would not only increase companies' sales, it could create new jobs and provide a boost to the slowly growing U.S. economy.
The Trans-Pacific Partnership with 11 other countries in or bordering the Pacific Ocean would create $124 billion in U.S. exports each year, according to the Peterson Institute for International Economics, a think-tank. The Trans-Atlantic Trade and Investment Partnership which covers the European Union could increase U.S. exports by $23 billion a year, according to another think-thank, the European Center for International Political Economy.
"Trade agreements are important because they open up new marketplaces to small businesses, which ultimately translates into more jobs and greater economic growth," says Sam Graves, R-Mo., chairman of the House Small Business Committee.
If previous trade agreements are a guide, the trade deals could be good for small business. The 20-year-old North American Free Trade Agreement with Canada and Mexico eliminated tariffs on products that are at least 51 percent made in the U.S., making U.S. goods cheaper for Canadian and Mexican customers. That helps U.S. manufacturers compete with overseas factories that pay their workers less. A quarter of small and medium-sized company exports in 2011 were to Canada and Mexico.
Without NAFTA, VinniBag a seller of travel bags for wine and other bottles, wouldn't have the business it has with Canada, nearly a fifth of its sales, co-owner Summer Scarbrough says.
"When they're going to be making a decision at a trade show to place an order, we say we're NAFTA compliant and they say 'OK,'" says Scarbrough, whose company is based in Ventura, Calif.
Additional sales of used plastic processing equipment to Canada led Arlington Plastics Machinery to hire two extra workers to refurbish the machines, operations manager David Pietig says. The company exports more because under NAFTA, 3.5 percent import and export tariffs are waived. Exports are about 15 percent of the Elk Grove, Ill., company's sales, up from about 3 percent before NAFTA. He expects to hire more people to handle the volume.
"When your customer knows he's getting a deal but doesn't have to pay 3.5 percent to 4 percent to import into the country, it helps us sell used equipment," Pietig says.
The lack of tariffs under NAFTA persuaded Novosbed, based in Alberta, Canada, to move the manufacture of its mattresses to the U.S. from China. Reduced paperwork and customs inspections cut the time it takes to get the mattresses to Canada. Without trade agreements, exports can be detained by customs officials until the packages or containers have been checked and approved, a process that can take weeks or more.
"We haven't had a single shipment stopped from the U.S. to our Canadian warehouse," owner Sam Prochazka says. "They usually wave them through."
Tool maker Channellock, based in Meadville, Pa., exports $500,000 worth of pliers and other equipment to Mexico each year, up from zero before NAFTA, says CEO Bill DeArment. The agreement eliminated previous Mexican requirements such as special labels on each item.
Before NAFTA, exporting to Mexico required numerous documents for each shipment, says Paul Sabbah, president of Stamford International, an export management company based in Connecticut. That's been streamlined to include an annual certification that the shipment complies with NAFTA rules.
Other trade pacts have encouraged companies to start exporting. Sabbah's clients have jumped at the opportunities created by free trade agreements. Since a U.S.-Panama agreement went into effect in October 2012, they've exported to the Central American country after having previously avoided it.
But trade deals don't guarantee success. Companies need to choose their markets carefully. Governments don't want foreign-made goods competing with domestic products, and many create what are called non-tariff barriers to make it harder for exporters in other countries, says Prakash Sethi, professor of management and international business at Baruch College in New York. Barriers can include bans on products or delays processing shipments at the border.
"This tactic is quite widespread and most countries practice it to a lesser or greater level," Sethi says.
And trade agreements can create demands on exporters. Manufacturing standards, which differ from one country to another, are a focus of the Pacific and European talks, says Kent Jones, professor of international economics and trade at Babson College. In some cases, the standards are set by the industry in each country; depending on how the negotiations turn out, U.S. manufacturers might have to change their standards so they can export.
But overall, the agreements benefit U.S. businesses.
"The more trade agreements, the better it is for small and medium-size companies," Jones says.