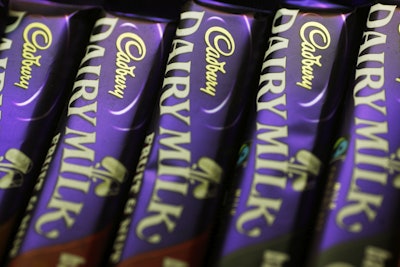 DEERFIELD, Ill. (AP) — Mondelez International Inc. reported quarterly sales Wednesday that fell short of Wall Street expectations. The company also trimmed its sales forecast for the year.
The maker of Oreo, Cadbury and Trident cited the challenging market conditions in scaling back its outlook for core sales growth to 2 to 2.5 percent. It had previously forecast growth of 3 percent.
Like many other packaged food companies, Mondelez has also been cutting costs to help offset weak sales results. Such actions helped lift its profit by 3.5 percent in the second quarter.
Mondelez, based in Deerfield, Illinois, has been under pressure to improve results since it split from Kraft Foods Group in late 2012. The split was intended to give each of the companies a more focused stable of products, with Kraft taking North American supermarket staples like Jell-O and Miracle Whip.
Mondelez took global snack brands like Oreo that had greater growth potential. But the company has stumbled as an independent company. To strengthen its coffee business, it said earlier this year it would join that part of its business with D.E. Masters Blenders.
For the period ended June 30, it earned $622 million, or 36 cents per share. Not including one-time items, it earned 40 cents per share, which was a penny more than expected, according to Zacks Investment Research.
A year ago, it earned $601 million, or 33 cents per share.
Revenue declined 1.8 percent to $8.44 billion and fell short of the $8.71 billion analysts expected.
The company stood by its adjusted earnings per share guidance for 2014, but noted currency fluctuations are expected to have a greater impact than previously thought. It expects to earn $1.64 to $1.69 per share.
Its stock was down more than 2 percent at $35.10.