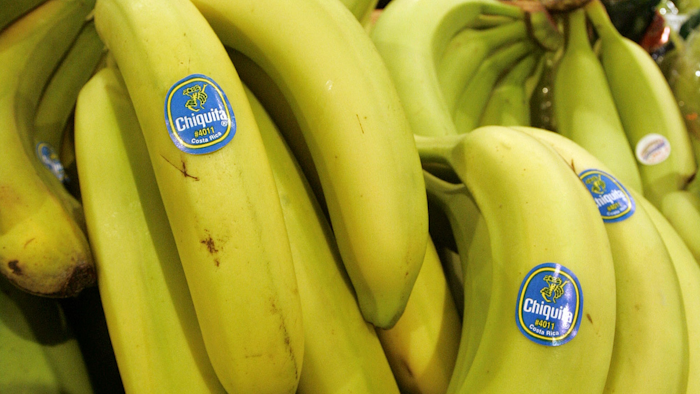 NEW YORK (AP) — Chiquita Brands attracted an approximately $611 million buyout offer from investment firm Safra Group and Brazilian agribusiness and juice company Cutrale Group.
Safra and Cutrale are offering $13 per share, a 29 percent premium to Chiquita Brands International Inc.'s closing price of $10.06 on Friday.
The unsolicited bid disclosed Monday comes as Chiquita and Fyffes of Ireland were working on their own transaction. The two companies agreed in March to merge in a stock-for-stock deal to create the world's biggest banana supplier. If a transaction were to occur between Chiquita and Fyffes, Chiquita's headquarters would move from Charlotte, North Carolina, to Dublin, a more tax-efficient corporate base.
In a letter sent to Chiquita President and CEO Edward Lonergan and Chairwoman Kerrii Anderson, Safra and Cutrale said that they believe their proposed transaction doesn't have the same execution risk and uncertainty that a deal with Fyffes does. The companies also said that they think their offer gives more value to Chiquita shareholders and could be completed before year's end.
Safra and Cutrale said that they would like to hear back from Chiquita on their offer by noon on Friday.
Gaining access to Chiquita would add more diversity to Cutrale's business. The company is an orange juice processor that also has operations that include apples, peaches, lemons and soybeans. Safra runs banks and invests in other businesses in North and South America, Europe, the Middle East and Asia.
In addition to being a major banana distributor, Chiquita Brands markets and distributes pineapples, packaged salads and other fresh produce.
Representatives from Chiquita and Fyffes did not immediately respond to emails seeking comment.
Shares of Chiquita surged $3.15, or 31.3 percent, to $13.21 in Monday afternoon trading — above the offered price.