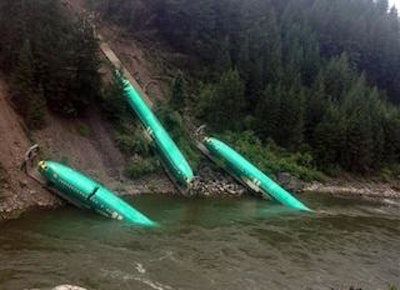 MISSOULA, Mont. (AP) -- Boeing is deciding what to do with six new commercial airplane bodies that fell off a train in western Montana, including three that slid down a steep riverbank, a company spokeswoman said Monday.
Experts from Boeing Co. and Spirit AeroSystems, which built the fuselages, are at the site of Thursday's derailment on the Clark Fork River about 50 miles west of Missoula, Boeing spokeswoman Dina Weiss said in a statement.
"Once we have completed our assessment of damages and determined our next course of action, we will decide what to do with the fuselages," she said.
She said other Boeing 777 and 747 airplane parts on some of the 19 cars that went off the tracks appear undamaged and will be shipped to the company's Everett, Washington, assembly plant.
The derailment sent three 737 fuselages down an embankment of the Clark Fork River and knocked three others from the train. Weiss said it was not immediately clear whether they were 737-700s, which are relatively short at 110 feet from nose to tail, or the longer 737-800s or 737-900s, which are more than 133 feet long.
Each weighs 20 tons and is attached to a 50-ton flatbed car, Montana Rail Link spokeswoman Lynda Frost said.
The first fuselage was removed safely Sunday after 12 hours of specialized machines pulling it up by cable at a rate of 20 feet per hour, Frost said. Crews were working on removing a second fuselage Monday and plan to pull the last one from the embankment Tuesday.
"They started with the most difficult one. It took longer than anticipated," Frost said. "The goal is minimizing any additional damage."
The three other derailed fuselages that did not go into the river are still on site or nearby, she said.
The cause of the derailment is still under investigation, she said.
The fuselages were being shipped from the Spirit AeroSystems plant in Wichita, Kansas, to a Boeing facility in Renton, Washington, to be assembled into airliners.
The huge blue-green fuselages are a common site on railways along the 2,000-mile trek from Kansas to Washington state. Ken Evans, senior manager for Spirit AeroSystems, said the company ships 42 of the 737 fuselages each month.
Spirit AeroSystems has been designing, building and shipping the fuselages by rail from Wichita since 1968, he said.
"In my memory, we've not had a serious derailment like this before," he said Monday.
The toppled hulls have become a spectacle for rafters to gawk at as they float past the partially submerged hulls on the Clark Fork River.
Jason Shreder, owner of Zoo Town Surfers located about a quarter-mile up the river, told the Missoulian that a few people booked raft trips over the weekend to see the fuselages and other debris from the derailment.