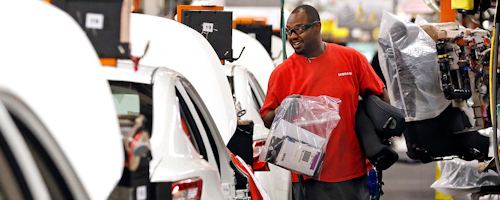 The U.S. manufacturing industry grew for the third consecutive month in November, according to the latest poll of supply executives by the Institute for Supply Management.

The ISM Purchasing Managers' Index stood at 53.2 percent last month, an increase of 1.3 percentage points over October's poll and again above the 50 percent threshold that reflects manufacturing growth.

ISM Manufacturing Business Survey Committee Chairman Bradley Holcomb said that participants found "increasing demand, some tightness in the labor market and plans to reduce inventory by the end of the year."

The group's index for both new orders and production also increased compared to October and remained above 50 percent for the third straight month.

The employment index, meanwhile, slid from October levels to 52.3 percent but reflected job growth in manufacturing in back-to-back months.

Raw materials continued to show smaller inventories and higher prices, while the index of order backlogs climbed but remained below the 50 percent threshold. Suppliers' deliveries also slowed once again in November.
 
Exports and imports each increased in the latest monthly survey, and the PMI reflected growth in the broader economy for the 90th consecutive month.