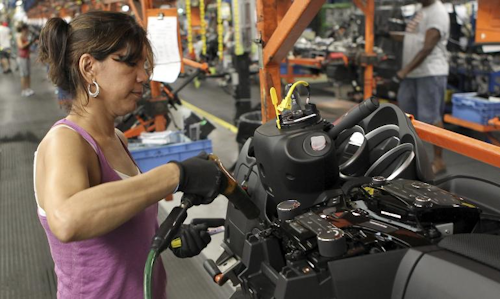 Orders for durable goods climbed for the fourth consecutive month in October, the U.S. Commerce Department announced Wednesday.

Manufactured durable goods saw new orders jump by $11 billion — or 4.8 percent — to $239.4 billion.

The increase, the largest since the previous October, was primarily attributed to the volatile commercial airplanes sector, the Associated Press reported. Demand for plans spiked by roughly 94 percent last month.

Transportation equipment overall increased 12 percent to lead all categories; excluding that sector, orders for large manufactured items climbed by 1 percent.

Commerce Department officials also said that durable goods shipments increased again in October, led by fabricated metal products. Inventories remained stable, while unfilled orders for durable goods increased following four months of declines.

The AP, meanwhile, noted that orders for non-defense capital goods, excluding aircraft, were off by 4 percent compared to the same month last year. That metric helps track business investment and suggested that spending "remains under stress" despite economists' optimism about the latter half of 2016.