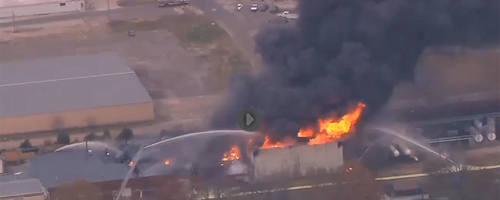 NOWATA, OK — Water service was turned off to residents of a northeastern Oklahoma city early Thursday due to possible contamination of its water supply following a chemical plant explosion in southeastern Kansas.
Water service was discontinued shortly after midnight in the city of Nowata, a city of about 3,700 people about 20 miles south of the Kansas state line and 150 miles northeast of Oklahoma City, said Stacy Guffey, a dispatcher at the Nowata County Sheriff's Office.
The Oklahoma Department of Environmental Quality is conducting tests to see what chemicals may be contaminating the water following an explosion and fire on Tuesday at the Airosol, Inc., chemical plant in Neodesha, Kansas, The Tulsa World reported.
Erin Hatfield, spokeswoman for the agency, says Nowata stopped pulling water from the Verdigris River on Wednesday afternoon as a precaution. She said emergency management officials and the Oklahoma National Guard will provide bottled water and water tanks as needed. U.S. Environmental Protection Agency officials were also responding to the situation, Hatfield said.
The river runs through parts of southeastern Kansas and northeastern Oklahoma, through Lake Oologah and into the Arkansas River near Muskogee.
The explosion and fire sent a male employee to a hospital with burns that weren't considered life-threatening. The plant manufactures and packages aerosol, liquid and other specialty chemicals.
The Occupational Safety and Health Administration says it has begun an investigation.
The Kansas Department of Health and Environment issued a do-not-drink order for Wilson County, Kansas, on Tuesday, saying "raw, untreated water is being pumped into the distribution system for fire suppression at the Airosol Company, Inc. plant." The City of Coffeyville, Kansas, declared a Stage 3 Water Emergency effective at 8 p.m. Wednesday. Kansas Gov. Sam Brownback has issued a disaster declaration allowing the National Guard to help respond to the explosion in the town of about 2,500 people.